How IncubatorCTX Can Be a Tool in Your Career Arsenal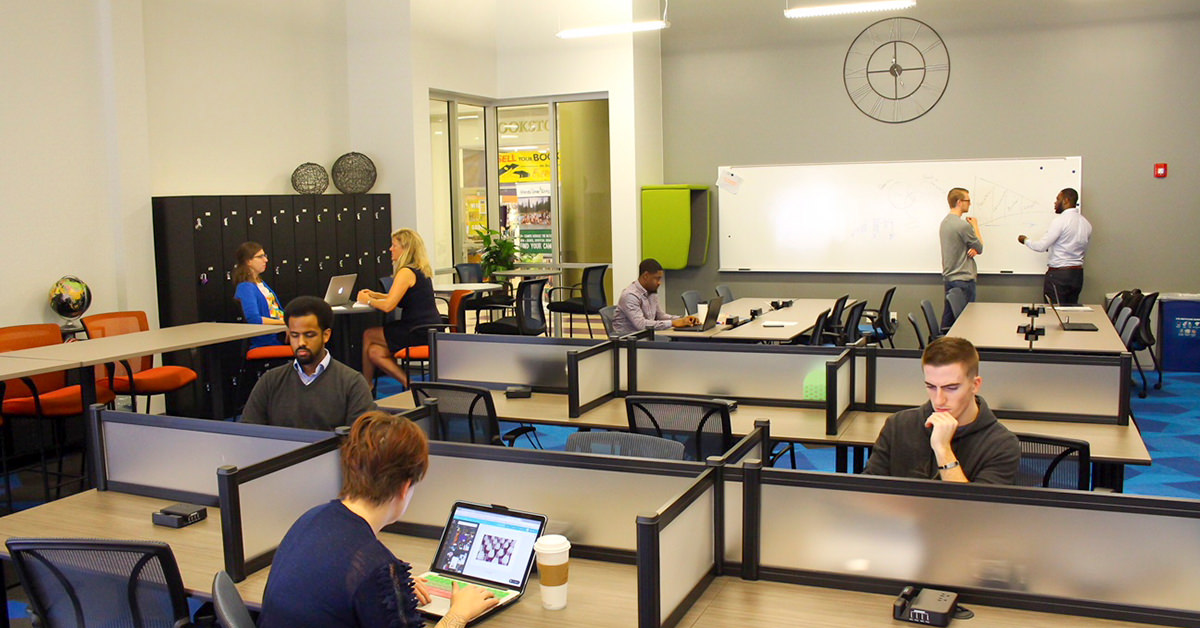 Hey Tornados! The job market over the past couple of decades has become increasingly competitive. Right here on campus, IncubatorCTX can help students gain the skills and experience necessary to begin successful careers.
I recently talked with Kristin Spindler, director of IncubatorCTX, and Kinsley Fisher, recent Concordia graduate and IncubatorCTX social media/content associate. They explained how IncubatorCTX benefits you as a CTX student.
How Can IncubatorCTX Help Me as a Student?
Students are welcome to participate in IncubatorCTX in several ways:
Student Entrepreneurs in Residence: IncubatorCTX accepts one student-run company per year as "Student Entrepreneurs in Residence." This company receives complimentary membership in exchange for being brand ambassadors of IncubatorCTX and the entrepreneurship program at Concordia. Past entrepreneurs in residence have attended and helped at IncubatorCTX events, spoken on panels and at community events, and assisted with student engagement in entrepreneurial activities. If you're interested in applying, please contact Kristin Spindler.


Twenty-five volunteer mentors are available at IncubatorCTX with various subject matter expertise from accounting to digital marketing.


MBA classes often utilize the Incubator space as well, especially during the Capstone presentations (held on July 16th this Summer Semester 2019). MBA students work closely with other companies on a project that can range from the design of a product to marketing.


Many events are held at IncubatorCTX throughout the year. In the past six months alone, thirty-five events have allowed students to learn from the successes and failures of featured entrepreneurs while also offering networking opportunities and career advice.
In short, there are many ways that IncubatorCTX can help you, whether you're majoring in art or business, English or accounting.
G51, our Entrepreneurs in Residence, hold Office Hours monthly that are open to students.
The dates for the Fall Semester 2019 Office Hours are as follows:
Thursday, August 9, 2019: 10 a.m. – 12 p.m
Wednesday, September 5, 2019: 10 a.m. – 12 p.m.
Wednesday, October 9, 2019: 10 a.m. – 12 p.m.
Wednesday, November 6, 2019: 10 a.m. – 12 p.m.
Wednesday, December 4, 2019: 10 a.m. – 12 p.m.
Wednesday, January 8, 2019: 10 a.m. – 12 p.m.
Wednesday, February 5, 2019: 10 a.m. – 12 p.m.
Wednesday, March 5, 2019: 10 a.m. – 12 p.m.
Wednesday, April 8, 2019: 10 a.m. – 12 p.m.
To sign up, please contact brigitte.johannessen@g51edu.com.
Lunch and Learns
Probably one of the most beneficial tools IncubatorCTX has to offer, Lunch and Learns consist mostly of juniors and seniors, "as that is when a majority of people are graduating," Fisher explained. Lunch and Learns offer students:
Resume workshops
Mock interviews, where questions can be catered towards your desired field of work
General advice about the incoming workforce
Career panels
Job Opportunities
As previously mentioned, the world is competitive. They really weren't lying about the dog-eat-dog scenario. Fortunately, many Incubator companies offer CTX students jobs, most commonly found on Handshake. Join Handshake today!
Still unsure of the path you want to take? Summer internships are available at IncubatorCTX, where you will have the opportunity to both build your resume and gain experience by working with Incubator companies.
Have Your Own Idea? If you think you're onto something, come to IncubatorCTX during G51 office hours to pitch your idea, ask for advice, and even practice an interview.
So get out there! Rock the workforce with your innovation and intelligence. The world is waiting; go take it by storm!