Meet Collegiate DECA State President and CTX Tornado Shawn Matthijetz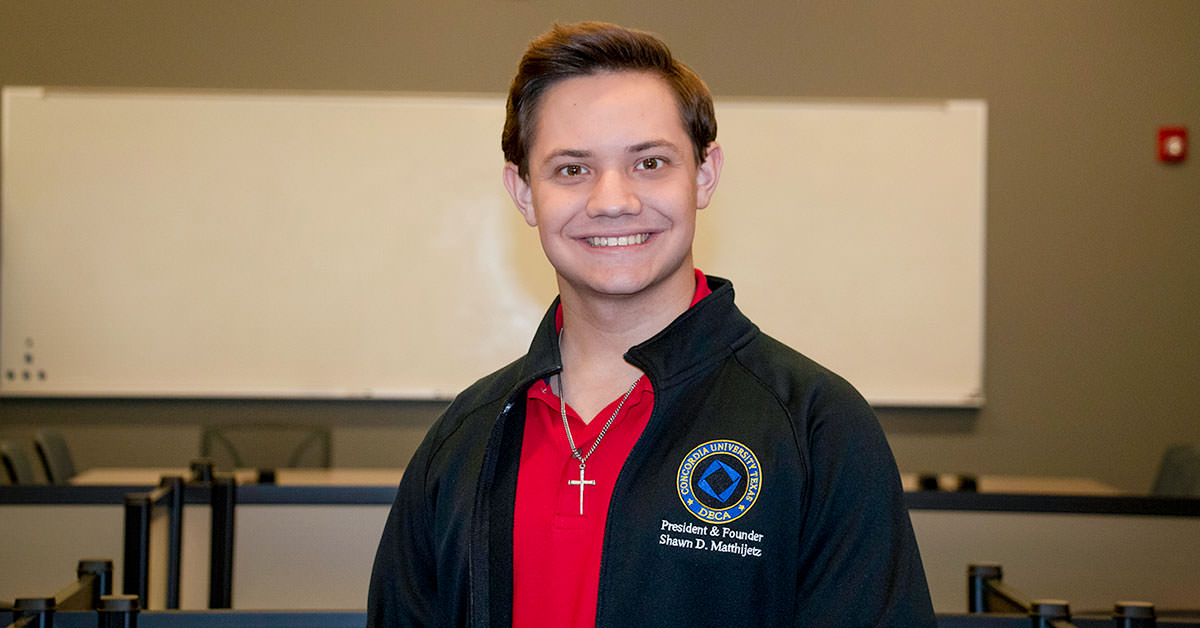 The Concordia University Texas Collegiate DECA team recently won big at the state-wide competition. All ten competing students have advanced to the international competition this April in Orlando, Florida.
Collegiate DECA is an international organization that helps prepare college students for careers in marketing, finance, hospitality, management and entrepreneurship through in-depth projects participants prepare and present in front of judges.
Meet the Founding President of CTX DECA
Shawn Matthijetz, a political science and international business major in his second year, is the founding president of Concordia's DECA chapter.
His sister encouraged him to get involved with DECA during his freshman year of high school. First working in fundraising, he helped grow the DECA team's funds from $5,000 to $15,000 per year.
During his senior year of high school, Matthijetz became president of his school's DECA chapter, raising membership from 8 to 56 people.
Establishing Concordia's DECA Chapter
When Matthijetz started Concordia, there was no DECA chapter. He worked hard his freshman year to get Concordia to approve establishing a DECA chapter.
Although he initially faced pushback, he kept working at it. "Persistence — that's like the biggest thing to me," Matthijetz said. His persistence paid off, and he received permission to form the chapter. The DECA team received their first advisor, finance professor Dr. Elena Skouratova, in October 2017.
He has served as Concordia's DECA president for the past two years, and one of his primary goals was to get the organization institutionalized to greatly reduce membership costs. He and his team achieved this goal, resulting in major membership growth. They've gone from 26 members in the first year to 100 members today.
Developing As a Christian Leader
Matthijetz talks to as many people as he can about leadership, to learn from their experiences and improve his own leadership style. "Leadership is not one style, so you can't get it from one person," he said.
One of the greatest lessons he's learned leading the Concordia DECA team is, "as a leader, you're equal with everyone else." Matthijetz explained that leaders are not better than those they lead, but they must realize that others look to them to lead.
Various people impact his leadership style, including his mother and sister. Watching his sister thrive in spite of having epilepsy inspires him to keep persisting through difficulties.
Collegiate DECA State President
On February 9, 2019, Matthijetz was elected state president by DECA members. In his role as president, he will work with the other state officers to establish goals for the statewide collegiate DECA organization.
Caleb Iversen, a criminal justice major, has been appointed as the new president of Concordia DECA. Matthijetz is working with Iversen to help him transition into the leadership position.
He offers advice for fellow Tornados working to develop into Christian leaders: "Keep going," Matthijetz encouraged, "that's what's going to make you grow as a leader."