Spring 2019 Commencement Recap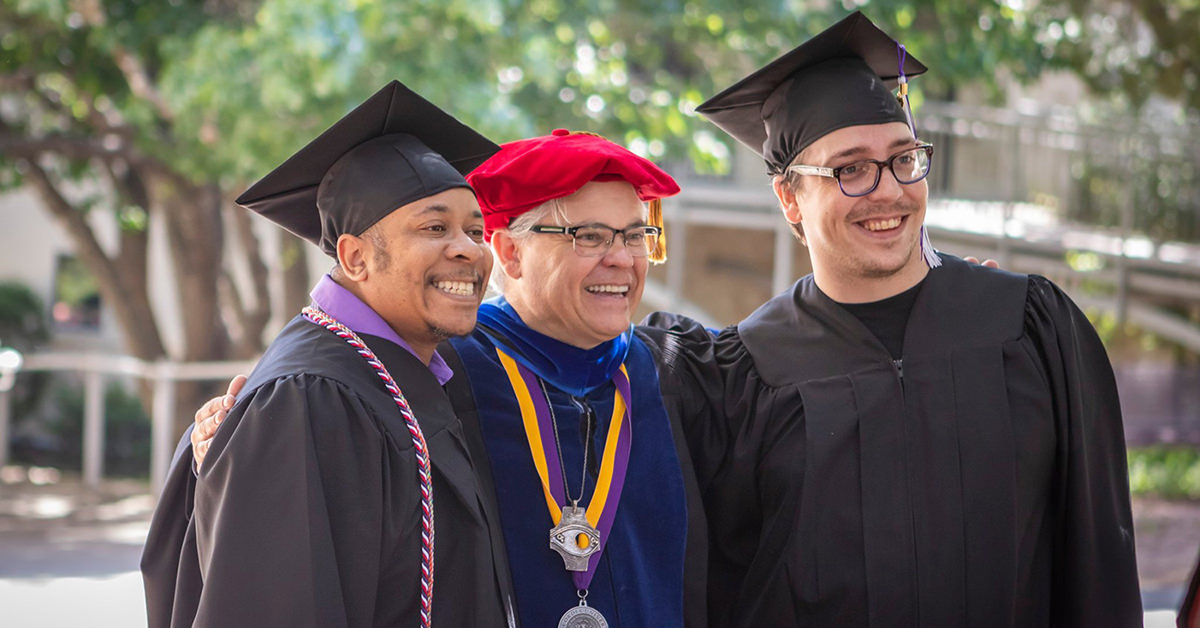 On April 27, the Class of 2019 graduated from Concordia University Texas. It was an exciting day as the undergraduates walked the stage in the morning and the graduate students received their hoods in the afternoon.
To begin the commencement ceremony, Psalm 32:1-5 was read, which reminds us that God is forgiving and loving. Galatians 2:15-21 was also read, verses which include the theme of the academic year: Christ alive in us.
Commencement Speaker

The commencement speaker was Dr. Stephen Strakowski, the associate vice president for regional mental health and the founding chair of the Department of Psychiatry at Dell Medical School, University of Austin Texas. Strakowski explained how he uses Christian principles in the field of psychiatry.
He also shared two principles with the graduates that can be applied to anyone's life."We serve God," Strakowski said, "and find God through our service to others… [and] when you do service to the care of others, you have now entered the reign of God."
Strakowski encouraged the graduates to understand what they have been designed by God to do and to pivot these things into the service of others.
Neeb Award for Excellence in Teaching

Dr. Joanne Antrim, associate professor of education and coordinator of advanced literacy, was awarded the 2019 Martin J. Neeb Award for Excellence in Teaching.
Chosen by CTX students, Antrim won the award because of her enthusiasm in the classroom, her compassion and her devotion to engaging with students.
Class of 2019
Cheers from family, friends, faculty and staff filled Riverbend Centre as graduates crossed the stage and moved their tassels from the right to the left, symbolizing their transition from students to graduates.

"May God bless your journey as you leave this place and go where He takes you," President and CEO Dr. Don Christian said, "as you take the world by storm."
Welcomed into the CTX Alumni Association

Daniel Hall ('06) officially welcomed the undergraduate class into the CTX Alumni Association. "You are now Concordia in the world," he said, "as you go engage in your meaningful work wherever you may go."
Betty Horn Bendewald ('57), one of the first women graduates of Concordia Lutheran College and founder of the CTX Alumni Association, welcomed the graduate class to the association. "May God continue to walk with you into your future," she said.
Taking the World By Storm

God blessed the Class of 2019 with beautiful weather to celebrate with their families, friends and others in the courtyard.
We congratulate all of our Spring 2019 graduates on their amazing accomplishments and we thank God for each alumni!
Want to see the full ceremony? Watch the undergraduate and graduate commencements and view the photo album on our Facebook page!
Keep in touch! Make sure to let us know how you're taking the world by storm by emailing us at alumni@concordia.edu. Woosh!