Take a Hike on the CTX Tornado Trail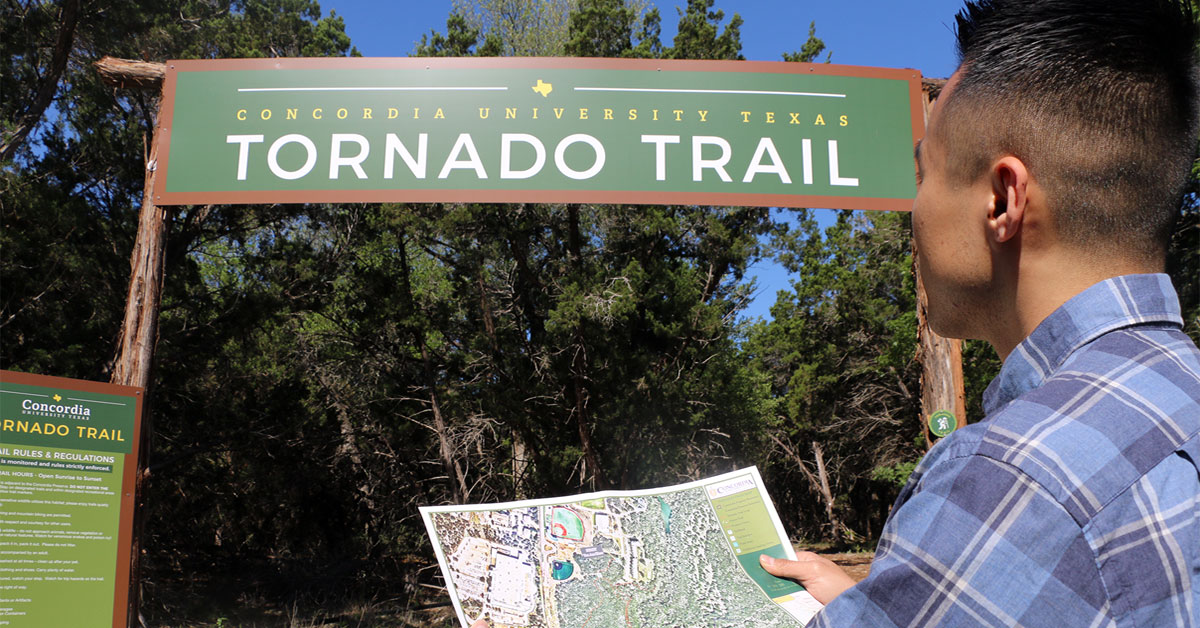 Concordia University Texas sits on 440 acres of beautiful land in Northwest Austin. A majority of the land, 250 acres, is a protected nature preserve that is home to a variety of wildlife, including two endangered songbirds. While access to the Concordia Preserve is limited, the University has a nature trail on campus that is open to everyone: Tornado Trail.
In the rapidly growing city of Austin, Texas, Concordia offers the community a place that is tucked encompassed by natural beauty while being conveniently located minutes from the center of Austin.
About Tornado Trail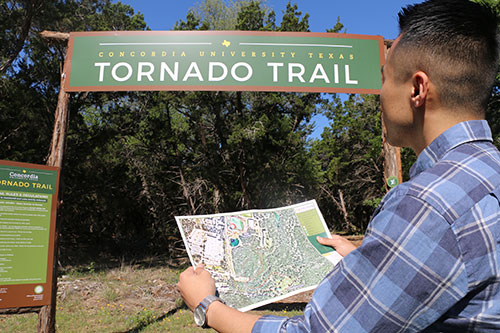 Tornado Trail is located on the Concordia University Texas campus. It is a 1.5-mile trail that is open to the public and can be accessed at any time without a guide.
The entrance to the trail is located next to the Field House, across from the residence halls. Adjacent to the Concordia Preserve, the trail features towering trees, native plants and a peaceful place to enjoy the beautiful outdoors.
COVID-19 Impact
Tornado Trail is still open, but the trail is subject to the social distancing and mask requirements.
If you're the only one on the trail, you do not need to wear a face covering. However, if you're within six feet or less of someone, you need to wear a face covering. If you want to enjoy the trail with a group, please travel only in small groups, and wear a face covering if you are within six feet of others.
Tornado Trail Activities
We encourage you to enjoy the trail while showing respect and courtesy for other users. You can walk, hike, run and mountain bike on the trail.
Please be aware that the trail is a natural habitat for wildlife and plants. We ask that you do not approach any animals, remove vegetation or damage any natural features. Please also watch for venomous snakes and poison ivy.

Before you visit, please review the Tornado Trail Rules & Regulations.
The Right Route for You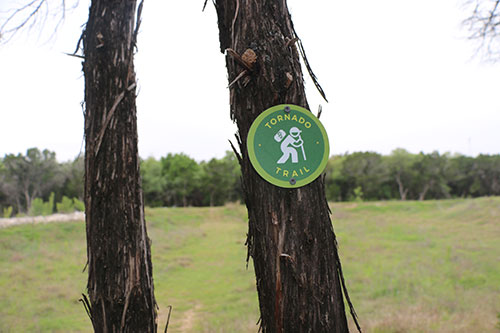 Tornado Trail offers multiple paths, with the longest route measuring 1.5 miles. See how many trail markers you can spot on your route.
Whether you're taking a short stroll between classes, mountain biking or taking your dog for a walk, you can enjoy Tornado Trail in a variety of ways.