Environmental Stewardship is the responsible use and protection of the natural environment through conservation and sustainable practices.
Anyone whose actions affect the environment shares this responsibility.
The Concordia University Texas Office of Environmental Stewardship (OES) celebrates and protects the natural beauty of our campus through programming and community collaborations. We pray that all who visit our campus return to the world with the heart of a naturalist.
Life-Changing Stewardship
Concordia's campus in Northwest Austin sits on approximately 440 beautiful acres, 250 of which are a protected nature and wildlife preserve. Additionally, CTX owns and manages a world-renowned fossil site, Friesenhahn Cave. Stewardship is an important initiative of the University, and it can only be accomplished with the help of the Concordia community.
Our vision is that Concordia University Texas is the premier nature and environmental university in Texas, engaging students, faculty, staff, and the community in creating prosperous human societies that restore and protect natural environments as parts of a shared community.
The OES carries out this vision through a variety of measures:
Leadership & Infrastructure

Incorporates sustainable philosophies and practices into organizational strategic planning

Education & Outreach:

Implements awareness programs, adopts sustainable practices and collaborates with community

organizations

Energy Efficiency:

Supports cost reduction and care for University resources, including alternative energy sources

Water Conservation & Quality:

Protects our sensitive watersheds for species of concern, lessens the strain on municipal water supplies, and reduces energy needed to treat and deliver water

Sustainable Site & Transportation:

Operations and maintenance of facilities, vehicles, landscaping and site water management

Environmentally Preferred Purchasing:

Purchases locally sourced products that reduce environmental impact

Waste Management & Reduction:

Reduces waste streams through increased recycling, compost and reuse

Culture & Recreation:

Creates new opportunities for outdoor enjoyment and builds a culture of awareness and stewardship
Environmental Stewardship Initiatives
In support of its vision, the OES has instituted many initiatives to protect Concordia's natural resources and promote sustainability.
Concordia Preserve

The Concordia University Texas campus encompasses a 250-acre federally protected nature and wildlife preserve. The Concordia Preserve, which is part of the regional Balcones Canyonlands Preserve (BCP), is home to endangered species, including the golden-cheeked warbler (Setophaga chrysoparia) and the black-capped vireo (Vireo atricapilla) songbirds.

Learn more about the Concordia Preserve »

Friesenhahn Cave

The University also owns and manages Friesenhahn Cave, an internationally known cave site in San Antonio, Texas. The site has yielded more than 4,000 isolated teeth and bones of more than 30 genera of ice age mammals, reptiles and birds.

Fossils of a saber-toothed cat (Homotherium serum), and the long-nosed peccary (Mylohyus nastus), helped launch the cave into the global spotlight.

Discover more about Friesenhahn Cave »

Tornado Trail

Tornado Trail is a 1.5-mile trail that is open to the public and can be accessed at any time without a guide. Located next to the Field House, across from the residence halls, Tornado Trail is adjacent to the preserve and features trail markers along the routes. You can walk, run, hike and mountain bike on the trail.

View the Tornado Trail Map »

View the Tornado Trail Rules & Regulations »

Nature Fest

Every year, the Concordia University Texas community gathers for

Nature Fest

to learn about and celebrate the University's unique natural setting. The week-long celebration is packed full of exciting activities, including bird watching, preserve tours, wildflower planting, and a presentation of birds of prey in action.

Midwinter Bald Eagle Survey

Every January, Dr. Sam Whitehead, assistant professor of Environmental Science & Conservation, and the OES lead the Concordia University Texas community on the Midwinter Bald Eagle Survey. The national project, coordinated by the U.S. Army Corps of Engineers, monitors eagle populations in very important winter habitats.

Traveling a 36-mile route along the Colorado River in Lake Buchanan, CTX students, staff and faculty help search for and count American Bald Eagles (Haliaeetus leucocephalus) and other bird species. Meeting with Whitehead, Charles Tischler gave Concordia the responsibility to continue his 30+ years of survey work on Lake Buchanan.

Choose to Reuse

In partnership with Sodexo, Concordia's OES implemented the Choose to Reuse program, replacing all single-use disposable styrofoam containers and cups with reusable takeout containers and drinking cups in the dining hall.

The process is simple!

Once you receive your Choose to Reuse container and tumbler, fill it up to take your food to go.
Remove any excess food scraps, wipe down the container and return your to-go box to the Choose to Reuse return receptacle (adjacent to the cash register).
If you want your food to go, you will be given a clean, sanitized to-go box. If you choose to dine in, you will be given a green carabiner token that you will trade in for a new to-go box the next time you take your food to go.
Repeat.

Nature Interpretation

The Concordia campus has signs by native plants around campus that offer more information. In addition to the common name and scientific name, the signs offer interesting facts about each plant. See how many you can find!

Outdoor Classrooms

Located on either side of the Luther Annex in Luther Park, the North and South Annex Courtyards were added as outdoor learning spaces for faculty, staff, students and the greater community to enjoy. When classes are not being held, you're welcome to use the space as a place to rest, study and catch up with friends.

Both courtyards are fully equipped, complete with dual bench seating, artificial turf, electrical outlets, Wi-Fi, purple and gold solar sails, and programmable party lights. The project team was intentional about selecting sustainably-sourced materials, including low-maintenance composite decking for the benches and turf that eliminates the need for irrigation.

Hammock Stations

There are 12 hammock stations around campus. Rent a hammock for free at the UFCU Student Center desk (Building B), find an ideal spot, then kick back and relax in Concordia's beautiful natural environment.

View the Hammock Station Map »
Dining Hall

OES has helped Concordia's Dining Hall improve sustainability by implementing front-of-house and back-of-house composting. You're an essential part of making these programs a success.

Simply follow the signs in the Dining Hall to support Concordia's composting efforts.

You put compost (food and napkins only) in one place, silverware in another, and empty plates and cups on the belt.

Water Stations

Concordia offers free filtered drinking water stations around campus to encourage the community to opt for reusable water bottles. Every time you fill a reusable water bottle, you help CTX become more sustainable by reducing the University's environmental impact.

The water refill stations are located in the Welcome Center (Building A), Building B and the CTX Library (Building F).

Waste Stations

Trash and recycling stations are conveniently located all around campus, and each station has a sign indicating which type of waste goes where.

Meet Zach Stark, Director of Environmental Stewardship. Zach joined Concordia University Texas in 2016.
As the director of Environmental Stewardship, he is responsible for managing all of the University's environmental resources.
The central purpose of Stark's role is to protect, conserve and preserve Concordia's abundance of environmental resources.
Concordia Rangers
Work with the Office of Environmental Stewardship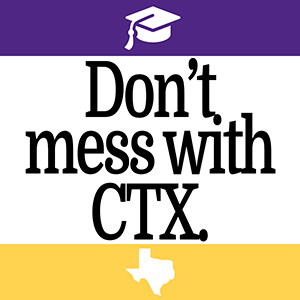 Concordia University Texas students interested in environmental stewardship can gain experience in the field without leaving campus by becoming a Concordia Ranger!
The Concordia Rangers are students who assist the director of Environmental Stewardship and the Environmental Science & Conservation faculty in monitoring and managing activities related primarily to the Concordia Preserve and remote parts of the campus. Additionally, Concordia Rangers serve as sustainability ambassadors, facilitating and promoting green initiatives across campus.
Through this paid position, you will gain valuable hands-on experience:
Maintain trails for Concordia Preserve and Tornado Trail

Lead educational tours of the preserve for the community

Patrol the preserve boundary and remote parts of campus

Operate and maintain monitoring equipment, such as trail cameras and GPS

Assist OES, Travis County staff and City of Austin staff to ensure preserve compliance

Assist faculty with research programs on preserve and across campus

Any CTX student is welcome to apply. Contact Zach.Stark@concordia.edu for the full qualifications to become a Concordia Ranger.