Concordia's Tornado Print & Mail Is Valuable Resource for Students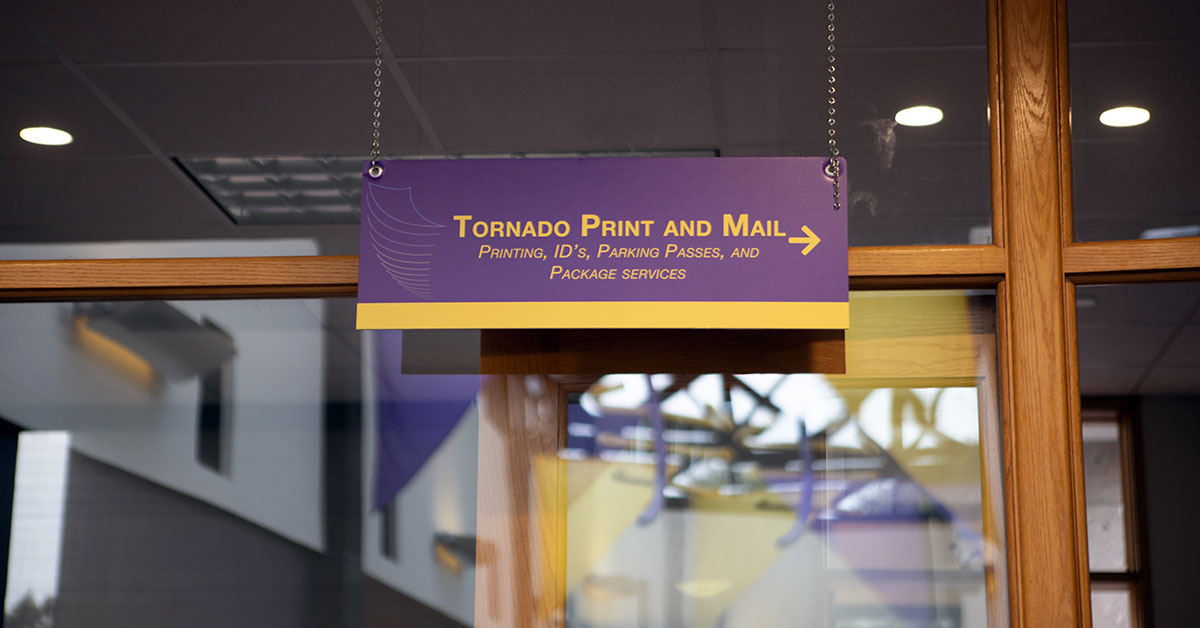 Tornado Print & Mail at Concordia University Texas is a valuable resource for everyone on campus, especially for students. The Tornado Print & Mail team is committed to helping students succeed at CTX by providing them with the services they need.
Student ID & Parking Permit
Your Concordia student ID is valuable because it enables you to do the following:
Access campus through gate

Access dining hall (if you have a meal plan)

Pick up packages mailed to you at campus

Apply for parking permit
Visit Tornado Print & Mail to get your student ID made, whether you're a new student or have lost your original student ID. Replacement IDs are $25 and can be paid with a credit card, cash or check.
You must also have a parking permit to park on campus. To complete the free parking permit form, you need to know your driver's license number, insurance information and license plate information.
Due to COVID-19, Tornado Print & Mail now offers contactless processes for obtaining ID cards and parking passes.
Printing Services
Tornado Print & Mail offers a variety of printing services, whether it's a color report you need for class or graduation invitations.
CTX students will be charged for color printing and other special projects. Tornado Print & Mail works to offer you the lowest price possible. However, be aware that the price varies based on the type of project and the quantity you need.

Mailing Services
In addition to printing services, Tornado Print & Mail offers ingoing and outgoing mail services. The department operates under strict United States Postal Service (USPS) guidelines.
Receiving Mail
Student residents receiving packages should have senders use the following address:
Your first and last name Your campus box number
Concordia University Texas
11400 Concordia University Dr.
Austin, TX 78726
Please note that you may be asked to show your CTX student ID to pick up your package. If you have a package, you will receive an email to your ctx.edu email account.
Sending Mail
All CTX students can mail packages through Tornado Print & Mail. Your packages will be sent through the USPS unless you select a different service.
Tornado Print & Mail will weigh the item(s) you wish to mail to calculate the postage, which you can pay for with a credit card, cash or check. The department will then mail your item(s) for you.
Tornado Print & Mail offers the following mailing services:
Certified, Priority, Express and International Mail through USPS

FedEx

UPS
Meet the Team
Supporting student success is the ultimate goal of Tornado Print & Mail.
Eric Silber, the director of auxiliary business operations at CTX, leads the team. He has been at Concordia for more than 17 years and is a 2017 Concordia MBA alumnus.
Miranda Perez is the operations lead and is the go-to person for all of your printing needs. She has been with the team since January 2015.
Breanna Dickinson joined Concordia in September 2020 as the operations associate. Focused primarily on support services (IDs, parking permits, etc.) and mail, she helps the Tornado Prints & Mailing team deliver these services to students.
Hours of Operation
Tornado Print & Mail operates Monday through Friday, from 8 a.m. to 5 p.m. It's located on the second level of Building F, past the library, on the right.