Culture
,
Faculty-and-Staff-Stories
,
CTX-101
Meet Zach Stark, Director of Concordia's Environmental Stewardship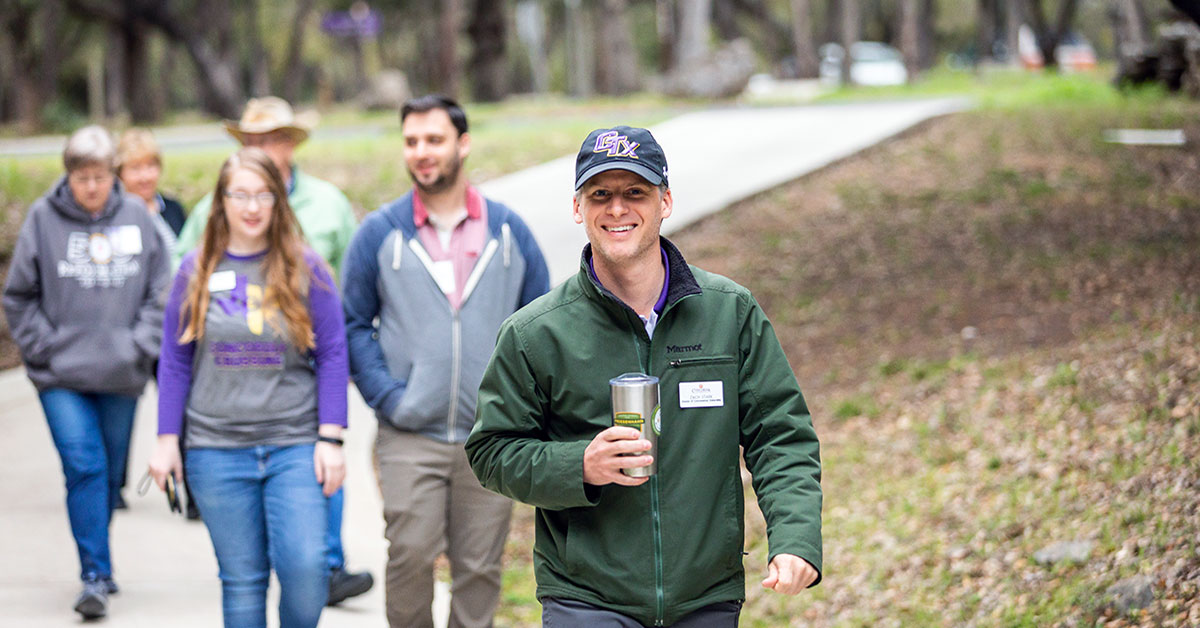 Zach Stark is the director of Environmental Stewardship for Concordia University Texas. Leveraging his passion for natural resource conservation and environmental management, Stark leads the efforts to protect, preserve and manage Concordia's valuable natural resources.
Concordia's campus includes a 250-acre nature preserve (part of the Balcones Canyonlands Preserve), and the University owns and manages the world-renowned Friesenhahn Cave.
What Does the Director of Environmental Stewardship Do?
As the director, Stark wears many hats. He is responsible for everything related to Concordia's environmental initiatives:
Manage all aspects of Concordia nature preserve

Serve as University liaison to coordinate with Travis County Transportation & Natural Resources to conduct land and wildlife management activities

Monitor 10/A permit and conservation easement rules and regulations

Manage Friesenhahn Cave & Preserve in San Antonio, Texas

Foster growth and awareness of environmental stewardship across Concordia

Leads all environmental stewardship initiatives, including Nature Fest

Develop and implement new strategies for improved sustainable processes

Work with facilities to streamline process for waste streams and recycling
As an Austin, Texas, native, Stark is especially honored to help preserve the Balcones Canyonlands Preserve. "Growing up in Austin, this is an incredibly important responsibility to me," he said. "It's a vocation I take to heart, and I'm proud to be a part of it."
Benefits for CTX Students
Because environmental stewardship is a campus-wide initiative, Stark works with nearly every department on campus. He works closely with the Science department faculty, specifically those in the Departments of Biology and Environmental Science & Conservation.
Many students have the opportunity to conduct hands-on work in the Concordia Preserve. Additionally, students can become Concordia Rangers, who conduct a range of duties to support the Office of Environmental Stewardship.
"CTX students get a unique set of experiences that they won't receive anywhere else," Stark said. "With the hands-on stewardship opportunities available, they will graduate with a massive skill set."
Extensive Experience
Before joining CTX, Stark spent eight years in land and wildlife management and environmental consulting, collaborating with biologists, archaeologists, surveyors and engineers, and he has comprehensive experience working with geographic information systems (GIS) to observe and analyze spatial changes.
Upon graduating with a Bachelor of Science in Geography (Resource & Environmental Studies) from Texas State University, Stark joined Plateau Land & Wildlife Management Inc., which is a company that helps rural landowners protect and manage native habitat and wildlife. He served as a GIS specialist and project manager, traveling all over Texas to provide environmental services and collect data.
Stark then joined environmental consulting firm Goshawk Environmental Consulting Inc. as a GIS specialist and project manager. In this role, he developed company-wide mapping standards and designs, advised on the best course of action for environmental and cultural resources for the energy sector, and more.
Joining Concordia in 2016, Stark has accomplished many initiatives as the director of Environmental Stewardship. If you have any questions related to the University's environmental stewardship, please reach out to Zach.Stark@concordia.edu.