News
,
holiday
5 Facts About Veterans Day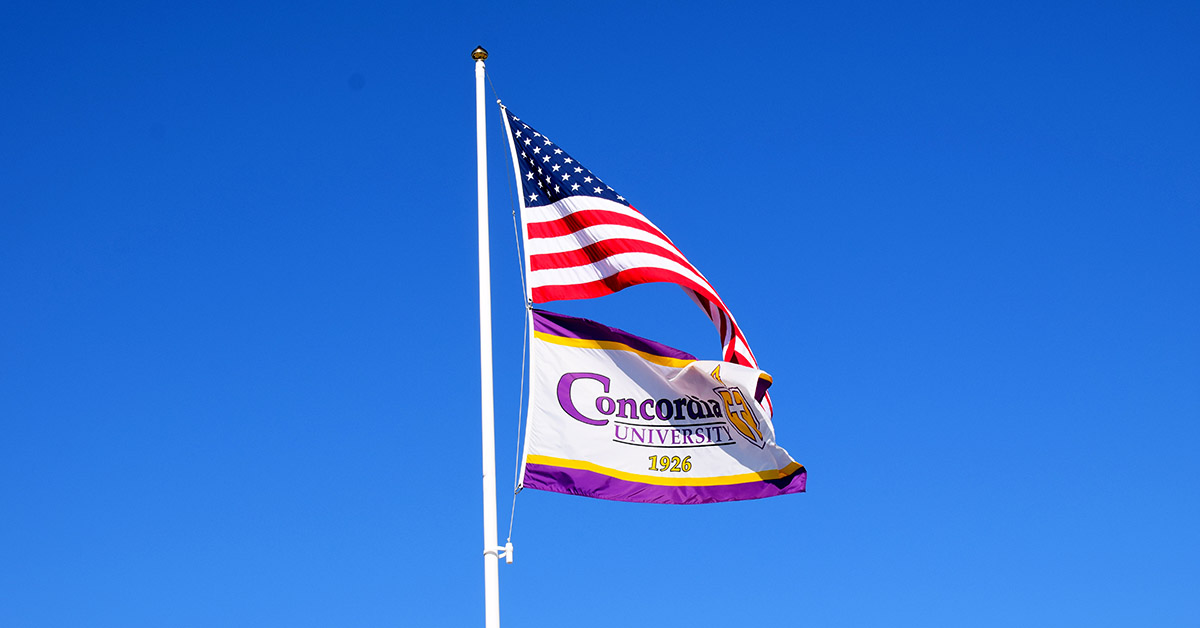 Concordia University Texas is grateful, proud and supportive of our veterans, especially our students who are veterans.
We celebrate Veterans Day and want to express our deepest gratitude to the men and women who have served and continue to serve in the United States Armed Forces, including the families of the soldiers.
In celebration, we've listed five fascinating facts about Veterans Day.
1. Originally Called "Armistice Day"
At the end of WWI, the Armistice of 11 November 1918 was signed in France, ending the fighting between the Allies — which included the U.S. — and Germany. It came into force at 11 a.m. on the eleventh day of the eleventh month.
U.S. President Woodrow Wilson proclaimed November 11, 1919, to be the first commemoration of Armistice Day. In 1938, the U.S. Congress passed legislation to recognize November 11 as Armistice Day in honor of WWI veterans.
2. Changed to "Veterans Day"
In 1954, after two more wars (World War II and the Korean War), veterans service organizations persuaded the 83rd U.S. Congress to amend the 1938 act commemorating Armistice Day and to change it to Veterans Day, honoring all American veterans of all wars.
Fittingly, U.S. President Dwight D. Eisenhower — a five-star general in the U.S. Army — issued the first Veterans Day Proclamation.
3. November to October to November
Initially established on November 11 to align with Armistice Day, the U.S. Congress, through the Uniform Monday Holiday Act, moved Veterans Day to the fourth Monday of October in an effort to increase the number of three-day weekends for federal employees and therefore encourage travel.
After confusion and some states refusing to observe a different day, Veterans Day was moved back to November 11 in 1978.
4. Honors All Branches of the Military
Veterans Day honors all men and women who have fought for the United States of America. The U.S. Armed Forces consist of six branches:
U.S. Air Force

U.S. Army

U.S. Coast Guard

U.S. Marine Corps

U.S. Navy

U.S. Space Force
The U.S. Space Force is the newest addition to the U.S. Armed Forces. At the direction of U.S. President Donald Trump, the Pentagon developed the U.S. Space Force, which was signed into law on December 20, 2019.
5. War with Most Soldiers
The largest number of U.S. soldiers to fight in a war was during America's participation in WWII (1941 - 1945). More than 16 million U.S. service members fought around the world.
The Department of Veteran Affairs (VA) estimates the following number of people who served in each war:
Vietnam War:

8.7 million

Korean War:

5.7 million

WWI:

4.7 million

Desert Shield/Desert Storm

:

2.2 million

Civil War

:

2.2 million

Spanish-American War

:

306,760

War of 1812

:

286,730

American Revolution

:

217,000

Indian Wars

:

106,000

Mexican War

:

78,718
Because the Global War on Terror is an ongoing conflict, estimates for these service members are not included.
Concordia University Texas Veterans
Concordia provides comprehensive support to students who are veterans. Many of our students, faculty and staff are veterans.
The Concordia Veteran Corps (CVC) is a chapter of the national Student Veterans Association. The CVC supports every student at CTX who is a veteran and provides social and service-led opportunities to grow personally and professionally.
There are multiple financing options available to assist veterans and their dependents in pursuing their college education at CTX.
Concordia University Texas accepts most VA educational benefits and is a participant in the Yellow Ribbon program. We do not accept the Hazelwood Act as these benefits are eligible only at public institutions.