Academics-Business
,
BBA
,
MBA
Business Administration Skills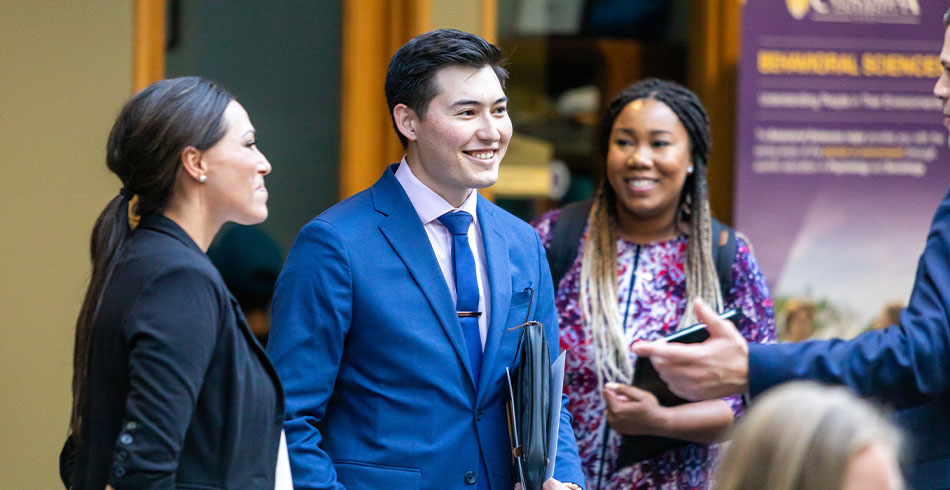 Business Administration Skills College Graduates Can Expect to Master
Our modern world runs on business. With that in mind, it's no surprise that business degrees have consistently been the most sought-after undergraduate credential in the U.S., according to the National Center for Education Statistics (NCES).
While there are dozens of different specialized degree options, business administration programs offer students a desirable level of versatility. Graduates of Bachelor of Business Administration (BBA) programs are in a position to learn a number of essential skills that professionals across industries use to be successful.
Join us as we explore the various business administration skills BBA students can expect to acquire.
Common business administration skills
These days, organizations seeking high-quality employees often turn to online recruitment platforms like ZipRecruiter. This prominent employment marketplace pulled data from its recent business administrator job postings and was able to identify the most prominent skills employers are seeking in qualified candidates:
Top 10 business administrator job skills
Business administration
Communication skills
Customer service
Administrative support
Attention to detail
Microsoft Office
Collaboration
Compliance
Innovation
Scheduling
Because business administration is such a dynamic field, the range of skills and qualifications employers look for is undoubtedly broad. To further clarify what skills organizations are looking for in business administration professionals, the Harvard Business Review (HBR) suggests adopting a three-skill approach. Effective business administration, the publication posits, is comprised of high-quality technical, human and conceptual skills:
Technical skills include the methods, processes, procedures and techniques needed to accomplish required job tasks. This can include things like quantitative and analytical skills, as well as specialized knowledge related to certain tools, platforms and compliance policies specific to an organization or industry.
Human skills regard a professional's ability to work effectively in collaboration with others, encouraging cooperative effort with open communication and strong interpersonal capabilities. These skills are important at all levels of an organization and can assist in an individual's networking abilities.
Conceptual skills refer to a person's ability to see the bigger picture when it comes to their organization and industry. Creativity, critical thinking and leadership abilities become critically important at this level, as a professional's conceptual capabilities can impact the organizational management of their business.
Business administration skills enable budding professionals to develop a broad understanding of the many facets of the industry, gaining in-depth knowledge that can help them be effective throughout their careers.
How a Bachelor of Business Administration can prepare you for success
Different BBA programs may take different approaches to equip their students to be effective in the business world. The Bachelor of Business Administration program at Concordia University Texas (CTX) offers small classes taught by industry experts who are active professionals in their fields. Instructors focus on bringing real-world examples into the classroom — something that is further supported by the University's close collaboration and partnership with the dynamic business community in Austin, TX.
All BBA students acquire new skills that will help them be effective business administrators, such as critical thinking, creativity, communication, leadership, networking and important quantitative abilities. The BBA program at CTX aims to prepare students for success in multiple careers and industries. Students are encouraged to hone their skills in an area that interests them, which is why five separate concentration options are offered:
Accounting & Financial Management
Global Healthcare Policy & Management
Human Resources & Management
Marketing
Sports Administration
There are even a number of micro-concentration opportunities for students looking to develop their skills in a different area of business without committing their entire major to it. Requiring just three upper-level classes, CTX students can gain additional competencies and expand their knowledge in just one semester — and all the work grads put into the following business administration micro-concentrations will still appear on their transcripts:
Communication
Entrepreneurship
Finance
International Business
Regardless of the concentrations and/or micro-concentrations BBA students choose to pursue, all graduates will become well-versed in working as part of a team, collaborating closely with classmates on projects and presentations. The CTX program also offers regular opportunities for students to hear from and interact with industry professionals, helping them learn how to apply the concepts they're learning about in actionable ways throughout their careers.
In addition to the hands-on experience garnered from the BBA program's internship requirement, students also have access to IncubatorCTX, a hub for Northwest Austin entrepreneurs. Students can take advantage of this resource to increase their networking experience and even seek out local internship or job opportunities.
IncubatorCTX, a hub for Northwest Austin entrepreneurs. Students can take advantage of this resource to increase their networking experience and even seek out local internship or job opportunities.
What can you do with a BBA?
Notable career outcomes BBA graduates have come to expect from the CTX program include the following:
Business owner
Finance controller
Human resources professional
Marketing and sales manager
Non-profit administrator or director
Project manager
Stockbroker
Talent manager
With abundant opportunities to learn both in and out of the classroom, BBA students at CTX can acquire the practical experience and skills that today's business marketplace demands.
Build your business administration skill set at CTX
From the small class sizes to the expert professors and robust opportunities to partner with the local business community, the BBA program at Concordia University Texas is well-versed in equipping professionals for success in the industry. Students at CTX even have the opportunity to begin earning a master's degree while they complete their undergraduate education with the Master of Business Administration (MBA) 4 + 1 program.
Opportunity abounds as a business administration student at CTX, but it all starts with earning your bachelor's degree. Learn more about your next steps by visiting the Bachelor of Business Administration program page.