EdD
,
Academics-Education
Concordia Online EdD Program with Two Residencies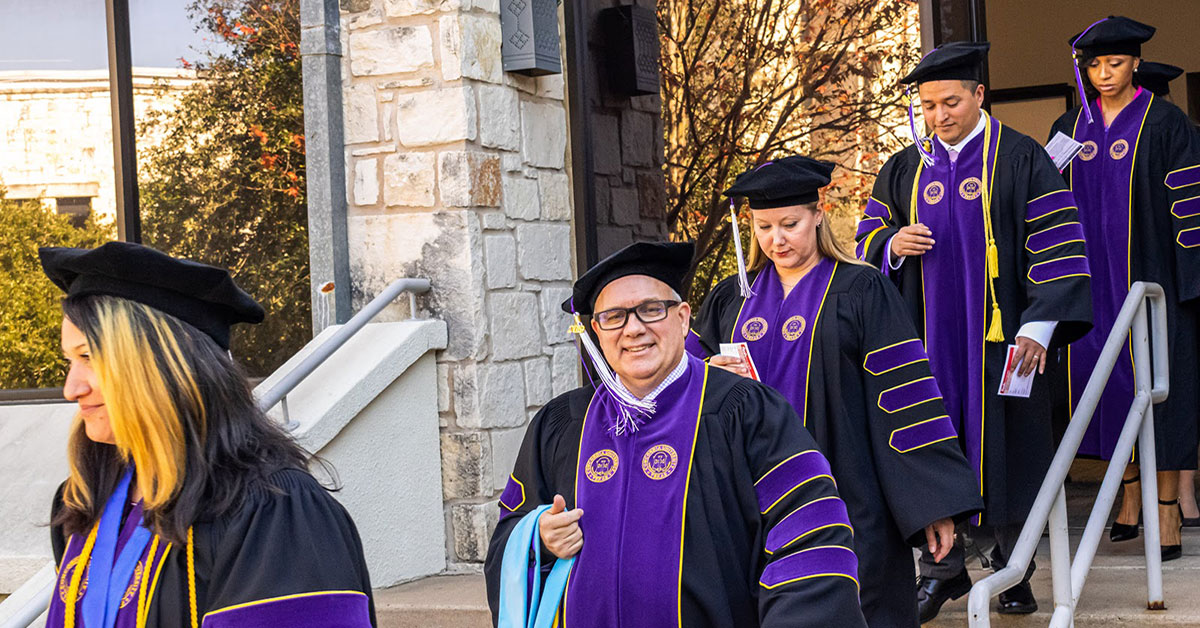 The Concordia University Texas Doctor of Education (EdD) is an online graduate program with two week-long residencies on our beautiful Austin, Texas, campus. Taking just three years to complete, including the dissertation, the Concordia EdD is a great option for busy adults.
Online EdD with Residencies
Designed for educational professionals and organizational trainers who seek to access leadership roles, the Concordia EdD prepares graduates with the knowledge and skills they need to empower their students, colleagues and organizations to succeed.
Marianne Rader was part of the first-ever EdD graduating class in December 2019:
I love being a student, and I love learning. But the bigger reason I earned my EdD is that I teach in a very small Lutheran high school, and because of our size, we are limited in staff. I want our kids to have the very best education; I think they deserve that. I had it within my power to meet that need, and I felt a responsibility to become as educated as I could for our students.
Concordia Online EdD Structure
The Concordia EdD is a three-year online graduate program that requires two on-campus residencies in the summer. You will spend the first year completing the core curriculum and the final two years of the program completing specialization-specific coursework, practicum and your dissertation.
You choose one of two specializations: Educational Leadership with an optional Texas Superintendent Certification-seeking track or Curriculum & Instruction.
Year 1
The Concordia EdD program launches with the first residency during the summer at the Austin, Texas, campus. During the week-long residency, you will complete a three-credit-hour course.
Throughout year one, you will complete the core curriculum online and then sit for a comprehensive qualifying exam. If you receive a passing score, you will then be formally entered into candidacy for the EdD degree.
Year 2
Launching the second year with the second week-long residency, you will go on to complete courses specific to your specialization, a majority of which will be online.
Year 3
The final year of the program is devoted to completing your practicum and dissertation. The University will assign you a dissertation chair to ensure that you have a chair who is committed to the entire process, keeping you on track with the three-year timeline.
The EdD program can be completed in three years, but students have up to six years to complete the entire program.
Concordia Online EdD Specializations
As mentioned before, you can specialize in one of the following: Educational Leadership or Curriculum & Instruction.
The Educational Leadership specialization emphasizes leadership at the district/central office level. Classes will focus on leadership in the K-16 environment as well as other learning environments.
Students pursuing Superintendent Certification through the Educational Leadership specialization will be prepared upon graduation to take the TExES Superintendent (195) exam. No additional courses are required.
The Curriculum & Instruction specialization is ideal for students who want to pursue leadership in curriculum, higher education or educational policy. The courses focus on strategies for teaching mastery.
Concordia EdD Program Benefits
The Concordia online EdD program offers a variety of benefits:
Streamlined program (three years with built-in dissertation)

Flexible online format with two week-long summer residencies

Ease of entry (no GRE or admission test)

Affordability (locked-in tuition, financial aid, payment options,

Tornado Textbooks program

)

A collaborative learning cohort model

Two specializations (Educational Leadership, Curriculum & Instruction)

Preparation for Texas Superintendent Certification
Chrissy Sampson, who was also part of Concordia's first-ever EdD graduating class, is using her doctoral degree to access leadership roles in the field of education.
The program has prepared me to be more dynamic in my thinking and creativity, which has allowed me to stand out as a leader among other educators. I am praying and trusting that God continues to direct my path and leads me to the right job opportunity divinely intended for me. I feel confident that my doctoral degree from Concordia University Texas will give me the edge that I need to stand out among other candidates."