Lead in Education With a Concordia EdD
The Doctor of Education (EdD) at Concordia University Texas is a three-year online program with two weeklong summer residencies at our beautiful Austin, Texas, campus. The degree is ideal for education professionals and organizational trainers who are looking to advance in their careers and assume leadership roles.
The ultimate goal of the Concordia EdD is to help you become a better educator so that you can empower your students and staff to do amazing things.
Program Overview
The Concordia EdD is designed for individuals who have completed a master's degree and want to continue their preparation for leadership roles in educational and organizational settings.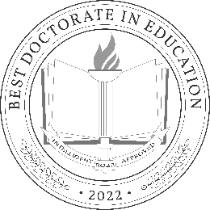 Candidates will develop advanced skills in analyzing theory and research findings for application in a variety of educational settings, and they will develop skills for conducting original research.
Additionally, candidates will focus on the development of leadership skills required to implement research-based change strategies.
The Concordia EdD is ranked by Intelligent.com as a top EdD program and top online EdD program in the country.
Curriculum Overview for EdD Students
The Concordia EdD is designed for busy professionals, with a majority of the coursework completed online. Students participate in a three-credit-hour course during each of the weeklong summer residencies on campus.
Through the program's cohort learning model, students complete the program alongside a group of 10 to 20 EdD candidates. In addition to providing valuable networking opportunities, cohort learning offers richer class discussions and the opportunity to challenge and support one another.
All students enrolled in the Concordia EdD program will take 21 credit hours of core courses. After completion of the core courses, students will complete the qualifying exam. Upon receiving a passing score on this exam, students will be formally entered into candidacy for the EdD degree in a specialization.
Students choose from two specializations:
Educational Leadership (EDL): This specialty emphasizes leadership at the district/central office level. Classes in this specialization focus on leadership in the K-16 environment as well as other learning situations. Students will take courses such as Advanced School Law and Conflict Resolution. Students pursuing Texas Superintendent Certification also prepare for the Texas Superintendent Exam. No additional courses are required for this certification.
Curriculum & Instruction (C&I): This specialization is ideal for students who want to pursue leadership in curriculum, higher education or educational policy. Through courses such as Curriculum Theory and Program Evaluation, students will learn strategies for teaching mastery.
Both specializations consist of 39 credits, which include the practicum and a choice between a Culminating Research-Based Inquiry of Practice (CRIP) or formal dissertation. With the CRIP and dissertation built in, students can complete the Concordia EdD in three years.
The CRIP project allows students the opportunity to use creative solutions to address needs within their own school districts or organizations. Students use research and theoretical skills gained throughout the program to design and implement innovative responses.
Students who opt to complete a formal dissertation focus on developing more generalizable conclusions and recommendations through research-based evaluations or theory construction.
Concordia University Texas will assign EdD students CRIP or dissertation chairs. This ensures that students have chairs who commit to the entire process, keeping students on track with the three-year timeline. Students may extend their CRIP or dissertation if needed. They have a total of six years to complete the entire program.
Program Benefits
Flexible online format with two summer residencies

Built-in research

No GRE or admission test required

Accessible faculty give individualized support

Collaborative cohort model

Affordability (locked-in tuition, payment plans,

Tornado Textbooks

)
Career Outcomes
Chief Learning Officer (organizational)

Consultant

Curriculum Specialist

Director of Curriculum

Educational Policy

HR Training & Development Specialist

Leadership Opportunities in K-16 School Administration

Publishing

Research

Superintendent

University Administrator/Instructor
Learning Environment

EdD students spend the first two years of the program completing valuable coursework and the final year working on a CRIP project or dissertation.

The program begins with the first residency session on the Concordia University Texas campus in Austin, Texas. Students complete orientation and weeklong course activities (8 a.m.–5 p.m.), earning three credit hours. The rest of the 21 credit hours of core classes, through which students build foundational knowledge and skills, are completed online.

The second residency session occurs at the beginning of the second year, during which time students return to campus for a week in the summer to complete another three-credit-hour course (8 a.m.–5 p.m.). After taking and passing the qualifying exam at the end of the first year, students are formally entered into candidacy for the Doctor of Education and complete 24 credit hours of specialization courses.

During the third year, students shift their focus to the required practicum (six credit hours) and their CRIP project or dissertation (nine credit hours). Following this plan, students can complete the entire program in three years.

CRIP Projects and Dissertation

Students choose to complete either the CRIP project or a doctoral dissertation.

CRIP

The CRIP is an alternative to the theoretical doctoral dissertation. This option allows students more flexibility to identify research, curriculum, or leadership initiative needs within their school districts or organizations and develop research-based solutions and evaluations. The creative aspect of this option provides a more accommodating modality for student research while upholding the expectations of a doctoral program.

The CRIP may appeal to students who are looking to become active problem-solvers within their districts, impress district leadership with research-based solutions, and become valued contributors within their current environments.

Dissertation

The theoretical dissertation is also an option. A dissertation focuses on the evaluation or construction of theory, based upon research methods focused to this end. Using the standard five-chapter format, dissertations allow students to develop more generalizable conclusions and recommendations.

The dissertation may appeal to students who are looking to excel in careers within higher education or the educational research community.

Dissertation Handbook (PDF)

Students in both specializations have the choice of completing either a CRIP project or dissertation throughout the third year of the EdD program.

Concordia University Texas assigns students their research committee chairs, which benefits EdD candidates in two ways: guaranteed chairs who will remain throughout the process and the ability to stay on track with the three-year timeline.

The EdD Research Committee selection and approval takes place during the Research IV — Proposal course in the second year of the program. The committee will consist of three members.

Superintendent Certification (optional)

Admission to the Texas Superintendent Certification program is completed toward the end of the first year of the EdD program for students pursuing the Educational Leadership (EDL) specialization.

Superintendent certification courses are part of the EDL specialization program and are subject to the regulations of the Texas Education Agency. At this time, the candidate seeking Texas Superintendent Certification must:

Submit written application for admission.
Complete a faculty interview (rubric with faculty recommendation).
Be admitted to EdD Candidacy (Qualifying Exam report).
Provide service record showing at least three credible years of managerial experience in a public school district.
Provide certificate showing valid, unexpired mid-management/principal certification from Texas.

In order to be accepted and remain in the Texas Superintendent Certification program at Concordia University Texas, the candidate must:

Meet all admission requirements to the Educational Leadership specialization, including a minimum GPA of 3.0 either cumulatively or in the last 60 credit hours from the most recently earned master's degree or higher.
Earn passing scores on both the interview and qualifying exam.
Accept the admissions offer within the required time frame.
Remain in good standing with the University.
Pass all required coursework.
Successfully complete EDL 6335 Practicum I and EDL 6336 Practicum II at a TEA-approved district in Texas under the guidance of a state-certified mentor (Texas Superintendent Certification) with at least three years of experience.
Pass the TExES Superintendent Exam after completing EDL 6335 Practicum I or EDL 6336 Practicum II.

Student Resources
Practicum
FAQ
Why earn an EdD?

Many school districts (mostly mid-size to larger) require their superintendents and/or executive team (e.g., curriculum director, finance director, etc.) to possess a terminal degree.

Additionally, an EdD will help you stand out in the marketplace, giving you access to opportunities for advancement and larger salaries that would otherwise be unavailable.

By further developing your instructional knowledge and leadership skills, you will be better prepared to empower your students, trainees, and/or coworkers to succeed.

Why earn an EdD at Concordia?

Concordia's EdD program is designed for busy adults with full schedules. You'll complete most of the coursework online, and the CRIP/dissertation is built into the three-year timeline.

With a Concordia EdD, you can access new advancement opportunities, better pay, and higher leadership roles.

What can I do with an EdD?

Those with an EdD can become school district executives, faculty at the university level, training supervisors in businesses, school-level curriculum leaders, or chief learning officers in corporations.