Concordia University Texas Is Best Hidden Gem in Austin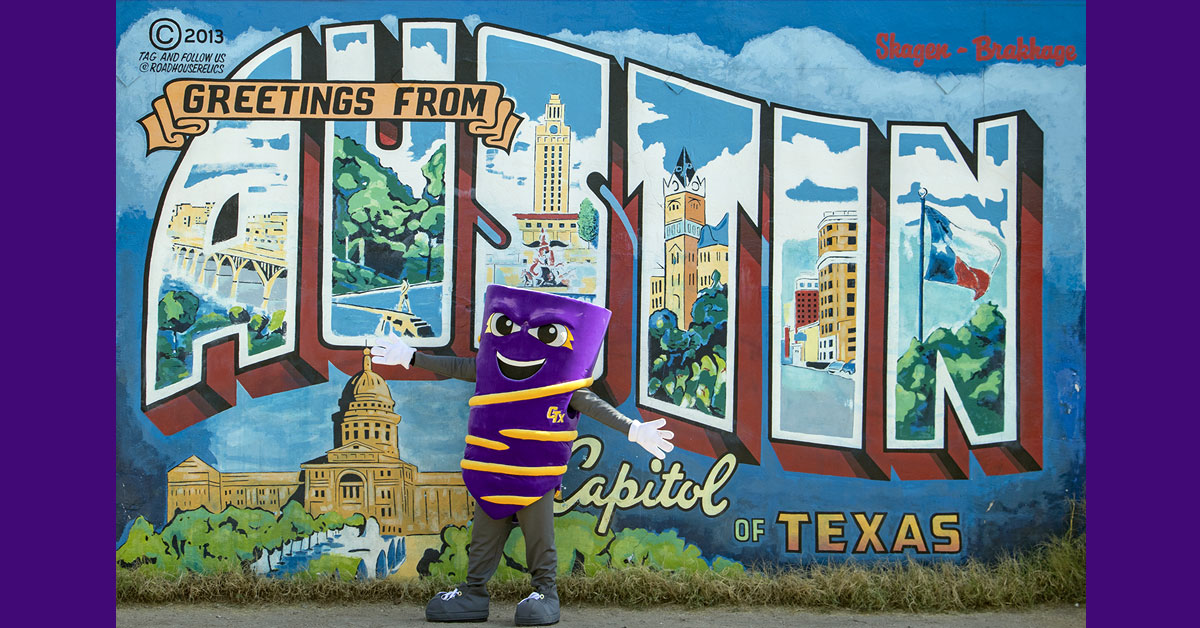 [Author: VorTex the Tornado]
Woosh! It's me, VorTex! I'm the official mascot of Concordia University Texas.
I'm often met with surprise when I chat with people around Austin, Texas; not just because I'm a talking tornado, but also because many of them haven't heard about all of the wonderful things that make Concordia University Texas so unique.
Here are the top 9 reasons I believe that Concordia University Texas is the best school in Austin.
Beautiful Campus
Concordia sits on 437 acres of beautiful land in Northwest Austin. A majority of our land, 250 acres to be precise, is a protected nature preserve. We take seriously the responsibility of managing this spectacular urban environment crafted by God's divine hand.
As a student at CTX, you get to learn, study and grow in a beautiful setting. You can study in one of our outdoor classrooms, grab a free hammock and hang out beneath the towering trees, chat with friends on the pier and more.
Take a virtual campus tour!
Convenient Location
Conveniently located directly off of highway 620 in Northwest Austin, the campus is surrounded by restaurants and shops, and downtown Austin is just a quick drive (or spin, in my case) away.
Unlike any other university in the area, Concordia's students enjoy the best of both worlds — a peaceful environment for learning in one of the fastest-growing cities in the nation.
Support in Every Area
From application to graduation and beyond, CTX students receive one-on-one support in every area.
Your admissions counselor will guide you through the entire enrollment process. Once you're registered for classes, your student academic planner and student financial planner become your go-to contacts for help.
The Academic Support Center helps you with anything related to schoolwork. It encompasses the Success Center (free tutoring), Math Center, Speaking Center and Writing Center.
Student Ministry & Missions provides many ways for you to grow your faith in Christ, such as daily chapel, the Fellowship of Christian Athletes, mission trips and more.
Vocation & Professional Development offers a full range of career services to help you prepare for your future beyond graduation.
These are just some of the support resources available to CTX students.
Place for Innovation
The University's cutting edge academic programs, such as the revamped Computer Science degree, will equip you with the most relevant knowledge and skills.
Concordia University Texas serves as a destination for innovation. Literally.
IncubatorCTX is an on-campus entrepreneurial hub that connects local entrepreneurs with the resources they need to launch their next great idea. As a student, you can network with business and community leaders at various IncubatorCTX events without leaving campus.
Campus Events
Throughout the year, Concordia hosts fun events that are free for all CTX students. Some of our annual events include:
Tornado Tuesdays — Grab free food and chat with fellow students in the UFCU Student Center on the first Tuesday of every month.

Coffeehouse — Display your talents to the Concordia community at the University talent show.

Concordia Crossing — Join us for our annual homecoming weekend at the beginning of March when we celebrate all things Concordia.

Founders' Day Family Weekend — Gather with us in October to celebrate Concordia's birthday with fun events, delicious food and great entertainment.
Great Mascot
I became the official mascot when I touched down at CTX in 1995, and I've been here ever since. I love supporting the Concordia Tornados!
You'll likely see me whirling around at some athletics games, during major events like Concordia Crossing and on the University's social media accounts.
I'm also the inspiration for our spirit slogan: Woosh!
Liberal Arts Foundation
Through the liberal arts foundation at Concordia, you have the opportunity to explore a variety of subjects while earning your degree in a specific discipline.
In addition to expanding your knowledge, you will develop a wide array of skills that are valuable for any vocation, such as leadership, critical thinking and problem-solving.
You're More Than Just a Number
At Concordia, you're more than just a number. You will receive individualized attention from faculty and staff.
Our professors invite students to talk with them, ask questions and visit them during office hours. They take the time to get to know you so they can understand how to best support you. Additionally, the small class sizes allow you to participate in exciting class discussions projects.
Christ-Centered University
As a Christ-centered university aligned with the Lutheran Church-Missouri Synod (LCMS), our faith drives everything we do.
Being Christ-centered is our primary core value, and from it flows the other core values: caring for people, vocation, lifelong learning, trust and courage.