CTX 101: Colleges & Schools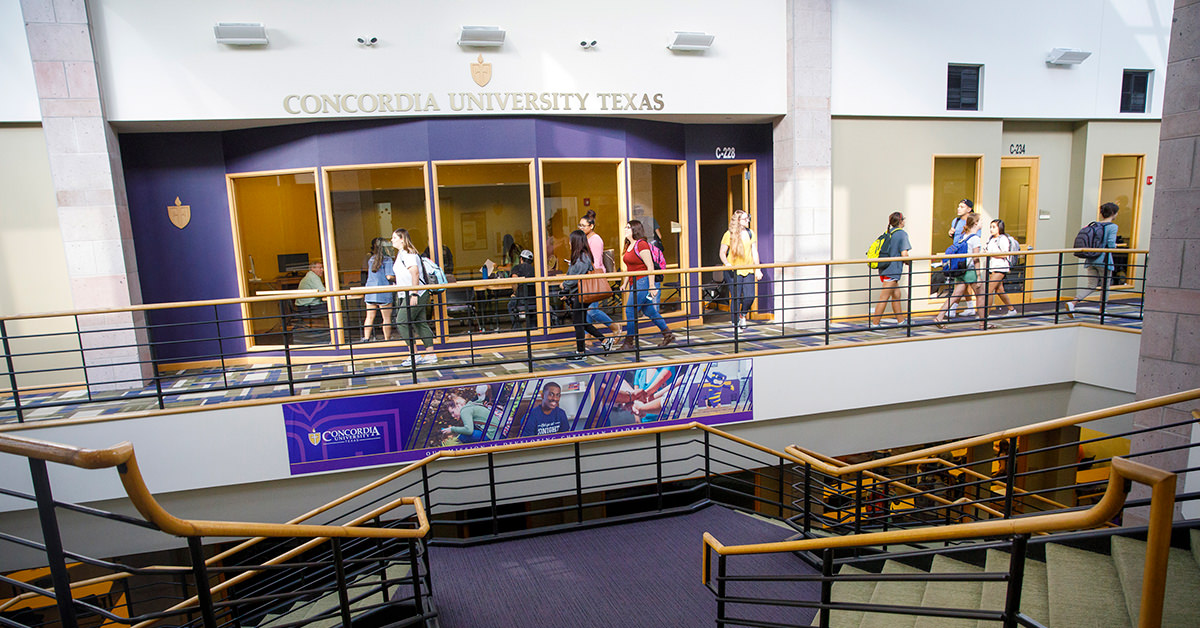 As a Christian liberal arts university, Concordia University Texas will help you identify the area of work to which God is calling you and will equip you with the tools needed to thrive as you serve others.
With more than 50 majors and concentrations across four colleges and three schools, we have a program that's right for you.
College of Business & Communication
Do you love spreadsheets? Are you interested in creating ads or graphic design? Do you want to change the healthcare world through effective management? Then this is the college for you!
The College of Business & Communication is the largest college at CTX, where you can study:
Applied business
Business administration
Communication (including visual communication)
Global Public Health
In addition to these areas of study, the college also houses the MBA program, which can be completed in just five semesters!
College of Education
If you have a passion to help others learn and grow in their education, the College of Education is probably the right place for you.
You can major in Education Content Curriculum, where you will be equipped to teach a specific area of study to kids in grades 4-8 or 7-12, or you can major in Interdisciplinary Studies where you will be prepared to teach multiple areas of study to kids in grades PK-6 or 4-8.
Combine your Christian faith with your calling to teach with our Religious Education (DCE) major. You'll be prepared to serve in a ministry-related field and have the opportunity to gain skills needed to become a director of Christian education (DCE) within the LCMS.
The college also offers graduate degrees, including the MEd and EdD, and special certifications.
College of Nursing
Ready to become a nurse? In addition to a traditional BSN, we offer the Accelerated BSN (ABSN) for a faster path to becoming a Registered Nurse (RN). CTX nurses are well known in the community, not just for their purple scrubs but also for their compassion.
Our advanced simulation labs and clinical rotations at local healthcare facilities within the area will prepare you for the field of nursing.
College of Arts & Sciences
The College of Arts & Sciences contains all three of our schools.
School of Natural & Applied Sciences
The School of Natural & Applied Sciences offers six degree programs, including Computer Science, Mathematics, Environmental Science and Conservation, and more. Explore the complexity of God's creation with a math or science degree.
School of Humanities & Social Sciences
There are a wide array of fields represented in the School of Humanities & Social Sciences, from classic areas of study like English and Psychology to more unique majors such as Criminal Justice and Criminology. This school also holds the pre-seminary and pre-law programs.
School of Fine Arts
The newest addition to the School of Fine Arts is the new Theatre major. We also offer a music major with specific concentrations and a minor in Art.