Husband and Wife CTX Alumni Serve in Church Work Together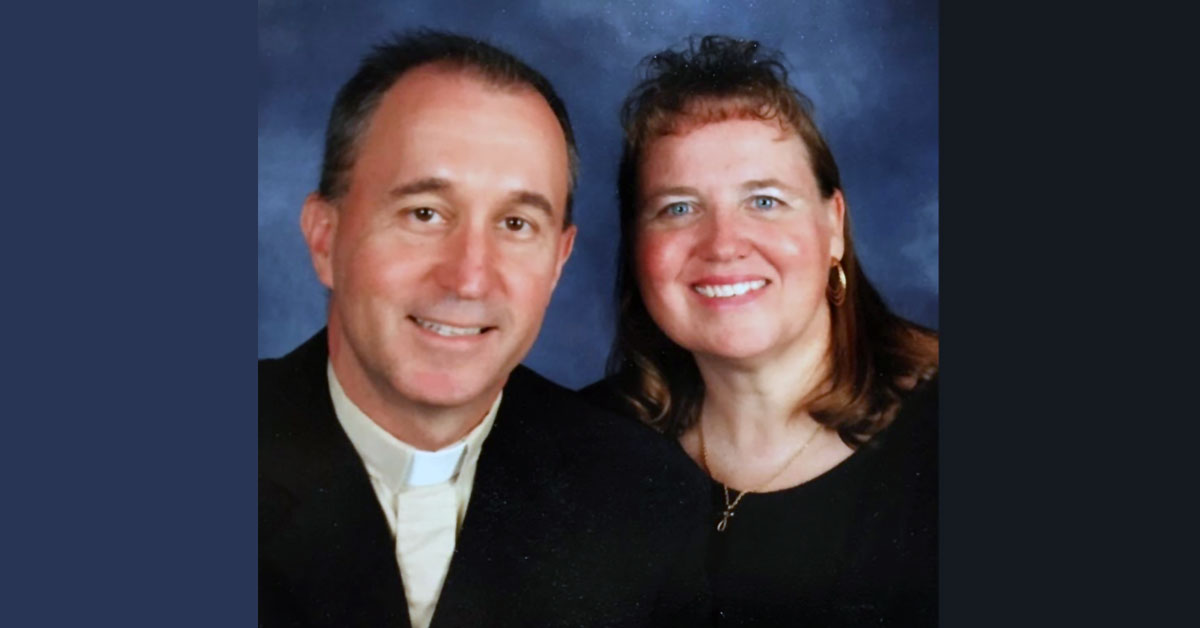 The Rev. David ('90, '91) and Cheryl ('93) Bailes are husband and wife, alumni of Concordia University Texas and church workers. They serve at Living Savior Lutheran Church in Montgomery, Texas.
Choosing Concordia University Texas
Both David and Cheryl attended CTX when it was known as Concordia Lutheran College. David graduated in 1990 with a Bachelor of Arts (BA) in Mexican-American Studies and a minor in Biblical Languages. While serving as an admissions counselor for Concordia from 1990 to 1991, he earned a BA in Behavioral Sciences.
"I knew by the end of eighth grade that I wanted to attend Concordia in preparation to become a pastor," David explained. "I heard about Concordia at church and liked the idea of attending a smaller Christian college after attending large public schools since kindergarten. The fact that Concordia offered a major in Mexican-American studies fit well with my interest in Hispanic ministry."
In 1993, Cheryl earned a BA in Education, specializing in Math and PE. "I attended the Missional Youth Retreat (MYR) the summer after graduating high school and then worked at Camp Lone Star the following summer, which made me want to enter church work," Cheryl stated. After attending Trinity Valley Community College for two years on a band scholarship, Cheryl transferred to Concordia because it prepares church workers for The Lutheran Church-Missouri Synod (LCMS).
David and Cheryl furthered their education within the Concordia University System. David graduated with a Master of Divinity in 1996 from Concordia Theological Seminary, and Cheryl graduated from Concordia University Nebraska in 2002 with a master's degree in Family Life Ministry.
Concordia Memories
Cheryl's fondest memories of CTX revolve around spending time with friends, playing cards and participating in intramural competitions. The student-led chapels, Coffeehouse (talent show) and opportunities to be a servant-leader are David's favorite memories of Concordia.
Concordia University Texas is known for excellent faculty members who go above and beyond, investing time in supporting their students. Dr. Edna Rehbein and Dr. Paul Puffe impacted David's life, and Dr. John Krampitz and Dr. Don Zielke made a difference in Cheryl's life.
Connecting Through Church Work
"We originally met at Concordia in 1990, but God had us go down separate paths until 2006 when we served together at a church," Cheryl explained.
David served part time at Living Word Lutheran Church in The Woodlands, Texas, and Cheryl became the Director of Christian Education (DCE) there. After they both left their roles in that church, David and Cheryl met for lunch.
"Two hours later, we decided we needed to meet again," Cheryl said. "The next lunch was three hours long, so we decided we could no longer meet for lunch because it was taking too much time out of our day. David claims that I tried to corner him in a closet, but I can tell you the real story."
"My version of the closet story is mainly accurate," David stated.
Church Work
The Lord has called both David and Cheryl to minister to others in a variety of ways. "Ministry does not happen only when your official title is connected to the church," David said.
David served as a missionary in Guatemala for three years and then an LCMS Mid-South District missionary for Hispanic ministry, based in Memphis, Tennessee. Moving to The Woodlands, David worked primarily as a licensed social worker for an international adoption agency while serving part time at Living Word Lutheran Church. During this time, David took a year off to become a licensed teacher and teach high school Spanish.
In 2007, David was called to plant and then pastor Living Savior Lutheran Church in Montgomery, Texas.
Cheryl served as the program and camp director at locations in Texas and Alabama. In 2002, she became the director of the Family Life Ministry at Immanuel Lutheran Church in Loveland, Colorado. She returned to Texas four years later to serve as the DCE at Living Word Lutheran Church and then became the director of the Children's Ministry at Trinity Klein Lutheran Church.
Cheryl joined the staff of Living Savior Lutheran Church in 2016. She serves as the DCE part time while teaching math in public school.
Working Together
Because Cheryl works at the church part time, they don't spend every minute together. However, when they do work together, they have many opportunities to support each other. "Being able to talk about our hopes and dreams for Living Savior and God's plan is very exciting," Cheryl said.
"We lean on each other in areas where we are challenged and have found that the other spouse has strengths in those areas," David stated. "The benefits far outweigh the challenges. It's much better serving at one church together."
What keeps them motivated in church work? "I am motivated just knowing that we make a difference," Cheryl stated.
"What keeps me motivated is seeing the impact the Gospel makes in the lives of people around me," David said. "We're all broken, but the Lord continues to use us for His kingdom.
Concordia Connections
David and Cheryl have served as counselors at MYR for nine years, which is a student retreat held at CTX that focuses on Christian leadership, service and vocation. They also host Concordia Sundays at Living Savior Lutheran Church, highlighting the programs Concordia University Texas offers for preparing LCMS church workers.
Their church has strong ties to CTX. Seven current members and three former members are CTX alumni. One current member is on the Board of Regents at Concordia University Texas. Plus, one of their neighbors is a Concordia graduate.
"The education we received and the opportunities to lead at Concordia University Texas continue to help us serve God's kingdom," David said.