Academics-Business
,
MBA
A Closer Look at the Typical MBA Curriculum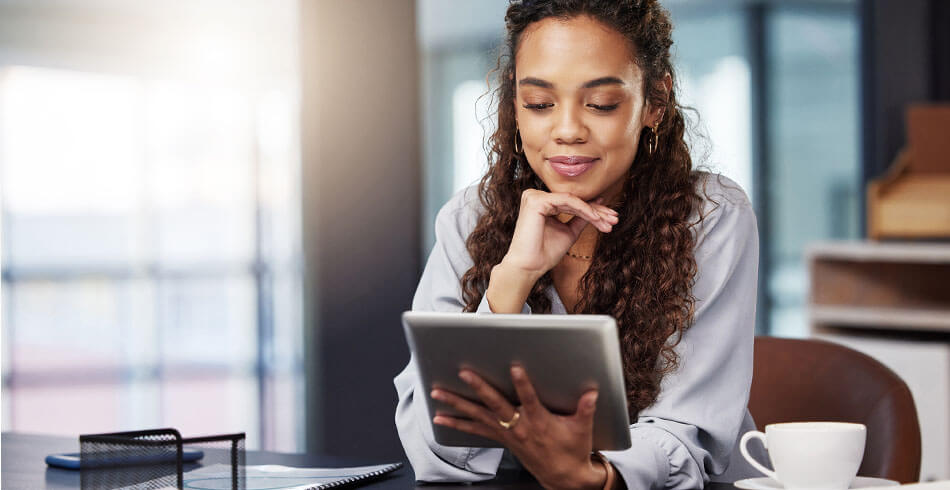 A Closer Look at the Typical MBA Curriculum
Pursuing a Master of Business Administration (MBA) degree has become something of a benchmark next step for professionals seeking to level up in their careers. In fact, the MBA is the most commonly pursued graduate degree in the U.S. by far.
Prior to the COVID-19 pandemic, enrollment in graduate business programs was waning. But applications to MBA programs have seen notable growth in 2020 and 2021 consecutively. Amidst heightened levels of job uncertainty, professionals are gravitating toward MBA programs specifically due to the versatility they offer.
If you're curious about the key takeaways you can expect from a graduate-level business administration program, read on as we take a look at the typical MBA curriculum, including some of the specialized concentrations that may be available to you.
MBA courses you can expect as a graduate student
The courses you'll encounter as an MBA student are meant to strengthen your knowledge and skills in a range of different areas. Those looking for a graduate program that aims to shape students into more well-rounded leaders could benefit from the following classes in a typical MBA program:
Accounting
Courses with a focus on accounting teach students how to control and manage organizational costs. MBA students can also expect to learn how to utilize cost information in a way that helps plan for the future while simultaneously measuring the business's performance.
Finance
MBA courses related to finance help students understand corporate financial statements and how businesses produce and use financial accounting information. In some cases, graduate students may also be given the opportunity to practice capital budgeting and discounted cash flow valuation.
The MBA program at Concordia University Texas (CTX), for example, offers courses like Corporate Finance & Investment and Financial Accounting & Management.
Marketing
Through the marketing courses in a typical MBA program, students learn how to properly analyze buyer behavior and how to utilize that information to fulfill the consumer's needs while reaching organizational goals. Understanding the ins and outs of the product, pricing, promotion and placement of a campaign can yield an essential set of skills that MBA students can utilize in multiple different business settings.
Human Resources
Students can also expect to take classes on human resources to learn how to effectively manage business personnel. This portion of the typical MBA curriculum may also involve psychology, organizational sociology and other topics that relate to people and human behavior. From a business perspective, students can also expect to learn effective methods related to hiring, promoting and disciplining employees.
Operations
Through courses revolving around operations, MBA students learn about the common problems that an operations manager typically experiences. They'll also explore the analytical techniques that can be used to find solutions to those challenges.
An example of this is the Managing Operations & Technology Course in the MBA program at CTX.
Microeconomics
The study of microeconomics revolves around how the decisions of individuals and companies affect the supply and demand of a product or service. In MBA courses on this topic, students learn how to analyze market conditions to set a price for the product or service they are trying to sell.
The MBA curriculum at CTX, for example, includes a Managerial Economics course.
Leadership & Ethics
Most MBA programs focus heavily on courses related to leadership and ethics. These topics are sometimes taught in tandem but may also be explored individually.
Leadership classes help students understand how to manage the performance of employees, communicate effectively and help cultivate a strong company culture. Ethics courses focus on analyzing business decisions in terms of whether or not they are responsible, following necessary guidelines and representative of organizational values.
This is often a major focus of the typical MBA curriculum. At CTX, for example, students can expect a minimum of four courses focused on leadership and ethics, covering topics like community leadership, organizational ethics, and organizational behavior and change.
Capstone
For most MBA programs, you can expect to complete a final project in the last semester of your graduate education, typically referred to as a capstone. This allows students to use the skills they have attained throughout their graduate education and apply them to situations they may face in the business world.
In the MBA program at CTX, students can even partner with a real business or organization to create a capstone project that effectively demonstrates their mastery. The aim of programs like this is to equip grads to take what they've learned and apply it directly to their real-life business experiences.
MBA concentrations
Finally, MBA students may have the option to pursue a concentration, depending on their programs' offerings. At CTX, students can select between two distinct MBA concentrations:
The

Healthcare Administration (HCS) Concentration

helps prepare students to take on leadership roles within the healthcare industry.

The

Organizational Development and Learning (ODL) concentration

is designed for students interested in roles related to organizational management.
Many seek out MBA programs for the versatile set of skills they'll acquire, but if you have a more specific career trajectory in mind, earning a specialized MBA in that area could provide you with more targeted experience and development.
Start planning for your MBA
Now that you know what to expect from a typical MBA curriculum, you can analyze your career goals and prioritize what's important for you. Once you do, you'll want to find an institution that can partner with you effectively.
For more information on the criteria you should focus on, visit our article "4 Features to Look for in a Quality Online MBA Program."