MEd
,
Academics-Education
What Can You Do with a Master's in Education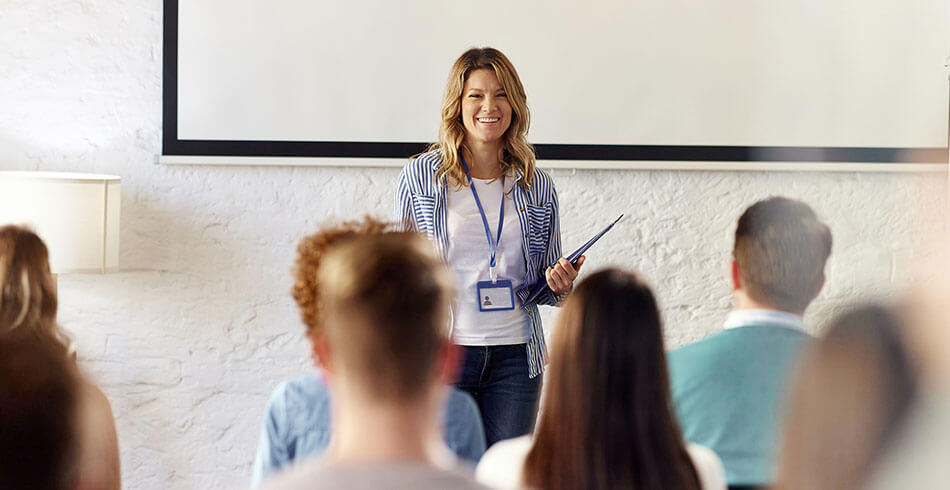 What Can You Do with a Master's in Education?
When it comes to pursuing a graduate degree in education, there are a number of different options. To find the right post-baccalaureate path for you, you'll need to analyze your professional aspirations.
A master's degree in teaching (such as a Master of Arts in Teaching or a Master of Science in Teaching), for example, is a great fit for those looking to spend their careers in the classroom. But if your long-term goals involve expanding your reach to have an impact outside of the classroom, a Master of Education degree (MEd) could be the catalyst you need.
But what can you do with a master's in education, exactly? This post-secondary degree path prepares educators to move out of teaching careers and into positions as administrators, policymakers, curriculum designers and more. Join us as we explore the possibilities.
What to expect from a master's in education program
Those who pursue a Master of Arts in Teaching (MAT) or a Master of Science in Teaching (MST) will spend their years of graduate school further honing their pedagogical skills, focusing heavily on classroom instruction. Conversely, an MEd program will focus on a broad range of education-related topics.
Students in the Master of Education program at Concordia University Texas (CTX), for example, can expect to grow in their ability to serve as change agents in educational reform, utilizing best practices in teaching and learning. Graduates exit the program having built a solid foundation in the practical application of theory, research and assessment in education.
The MEd program at CTX is divided into two parts. On the one hand, students learn about the core foundations related to theory and research in education, but they also can focus on a specialization of their choosing.
MEd specialties will vary depending on the institution, but students at CTX can select from the following:
With the assistance of highly qualified guest speakers, experiential field activities, dynamic case studies and other innovative teaching practices, Concordia's MEd program is designed to prepare candidates for leadership positions within educational and instructional environments.
Common Master of Education jobs
MEd programs provide advanced training in everything from curriculum development and emerging technology to federal, state, and local laws and policies. This makes the opportunities for career advancement numerous.
While this list is by no means exhaustive, consider the following examples of your potential job fields with a Master of Education:
Career counseling
Educational technology
Curriculum development
Instructional design
Athletic leadership
Educational consulting
District administration
Education policy development
Corporate training
Graduates also commonly use their expanded educational skillsets to take on school superintendent, principal or vice principal roles.
Finally, it's worth noting that obtaining a post-graduate degree can help increase your professional opportunities and salary potential across industries. Data from the Bureau of Labor Statistics reveals that master's degree holders earn about 18 percent more in average weekly earnings in comparison to those with a bachelor's degree. They're also 34 percent less likely to face unemployment.
Take your education career to the next level with an MEd
Now that you have a clearer picture of what you can do with a master's degree in education, you'll need to find a program that can help you achieve your goals. The MEd program at Concordia University Texas was designed with a mission to help develop educational practitioners who exemplify leadership in values-based education.
Our MEd graduates are effective in managing educational change, are well-versed in the practical applications of theory, research and assessment, and are sensitive to diversity in learners, cultures and educational systems
Learn more by visiting the CTX Master of Education program page.