Top 10 Undergraduate Majors at Concordia University Texas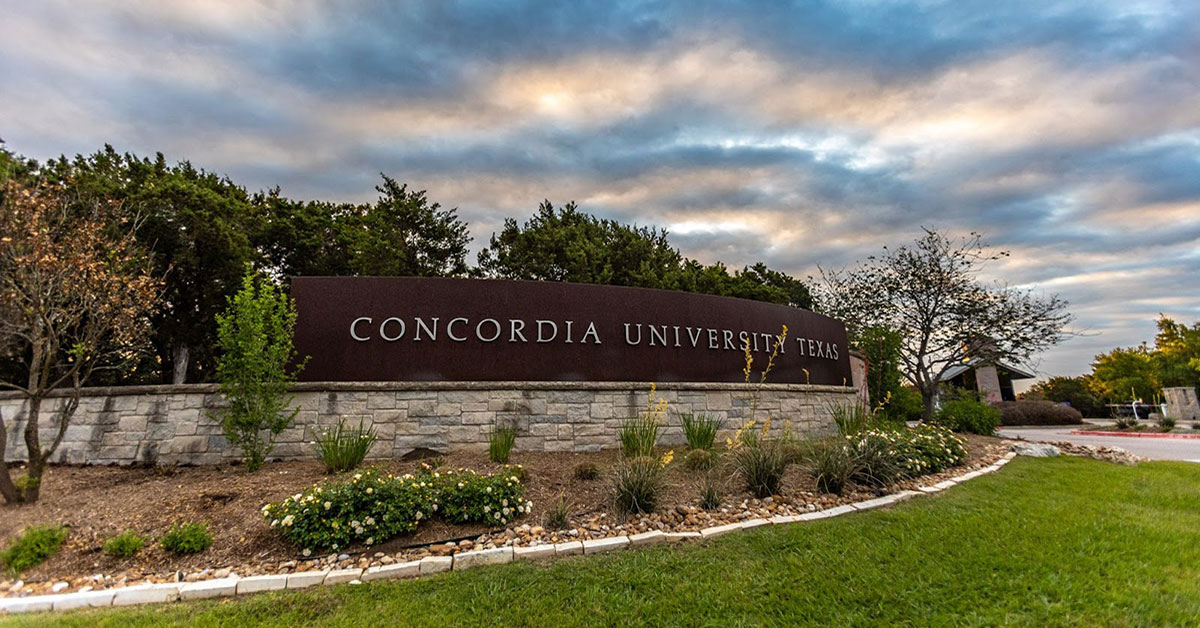 Concordia University Texas offers more than 20 undergraduate majors and allows students to customize their degrees with concentrations, minors and pre-professional programs.
Every program at Concordia offers small class sizes, allowing you to ask questions, interact directly with professors and participate in exciting discussions.
Here are the ten majors with the most students at Concordia University Texas.
1. Nursing
The nurses in purple scrubs stand apart. Concordia's Nursing program is rooted in Christian values and focuses on equipping nurses to deliver exemplary care.
Concordia Nursing's Echelon 1 campus in North Austin features simulation labs where students practice their skills on lifelike mannequins. Students also gain hands-on experience through clinical rotations in the Austin area.
There are three paths toward earning a Bachelor of Science in Nursing (BSN) at Concordia:
You enroll as a Pre-Nursing major while completing Pre-Nursing Sequence for the first two years. During the last semester of your Pre-Nursing courses, you apply to the Nursing program and, once admitted, complete the two years of the Professional Nursing Sequence.
Incoming freshmen admitted as Pre-Nursing majors will be evaluated to determine their eligibility for direct admission into the BSN program. If you are directly admitted, you will secure a spot in Concordia's prestigious BSN program, as long as you meet the final requirements while completing the Pre-Nursing Sequence.
The Accelerated BSN is designed for students with previous college experience in a non-nursing field. This accelerated program combines rigorous online coursework with hands-on clinical work, allowing you to earn your BSN in just 16 months.
2. Business Administration
Earn a high return on investment with the premier Bachelor of Business Administration (BBA) program at Concordia. You can align your degree to your interests and career plans through one of four concentrations:
Accounting & Financial Management

Global Healthcare Policy & Management

Human Resources & Management

Marketing
Professors have extensive experience in their fields, and you have access to IncubatorCTX, the on-campus entrepreneurial hub that offers the monthly Speaker Series, valuable networking opportunities and more.
Additionally, you can enter the MBA 4+1 program that enables you to earn your BBA and Master of Business Administration in five years.
3. Psychology
Crazy about studying the human mind? The Bachelor of Arts in Psychology will equip you with the communication skills and knowledge you need to impact others through meaningful vocations, such as counseling, human resources, social work and more.
Throughout the program, you will develop and refine your writing, critical thinking and research skills. You can choose the academic concentration or professional concentration.
4. Kinesiology
The Bachelor of Science in Kinesiology will prepare you for a meaningful career in helping others.
Whether you plan to become a coach, enter athletic training or attend graduate school to become a physical therapist, the program will equip you with the technical knowledge and practical skills you need.
You can align your degree with your career goals through one of three concentrations: Generalist, Pre-Physical Therapy or Sports Administration.
5. Multidisciplinary
No two students are the same, so why should their degrees be? With Concordia's Multidisciplinary major, you can customize your education by combining two fields of study that will best prepare you for your specific career aspirations.
The program will equip you with a wide range of skills and knowledge, making you better prepared and more competitive in the workforce.
6. Criminal Justice
Secure a premier education with Concordia's Bachelor of Arts in Criminal Justice & Criminology. The program prepares students to deal with crime in all of its forms, on all of its levels, with all of its participants and with all of its consequences.
In addition to the required hours for the program, you choose four upper-level courses to take that align with your interests.
7. Education
Do you want to learn how to teach? The Teacher Education program at Concordia University Texas prepares students for the calling to teach.
The Bachelor of Arts in Education Content Curriculum will help you develop expertise in one subject for instructing students in middle or high school. The Bachelor of Arts in Education Interdisciplinary Studies prepares you to instruct students in elementary or middle school in multiple subjects.
Plus, Concordia provides nearly four times more fieldwork hours than required by the State of Texas. You'll be thoroughly prepared for meaningful work as a teacher.
8. Biology
Become a powerhouse in the field of biology. The Bachelor of Arts and Bachelor of Science programs in Biology expand students' knowledge of biological science.
In addition to providing fully equipped labs and research opportunities, the program uses the University's 250-acre nature preserve on campus as a living classroom.
9. Communication
The Bachelor of Arts in Communication at Concordia is designed to form students into effective public speakers, versatile writers, advanced technology users and healthy relationship partners.
Choosing from three concentrations — Interpersonal Communication, Public Relations & Advertising, or Visual Communication — you will be prepared for a variety of industries.
10. Computer Science
Upgrade your skills with a Computer Science degree from Concordia. The program is unique because it equips you with relevant technical knowledge while helping you develop strong communication skills, both of which are essential to succeed in the field.
You can earn either a Bachelor of Arts or a Bachelor of Science. During every Computer Science course, you will work with Concordia's Speaking Center to hone your communication skills.