About
,
Parents
Concordia University Texas' Helpful College Guide for Parents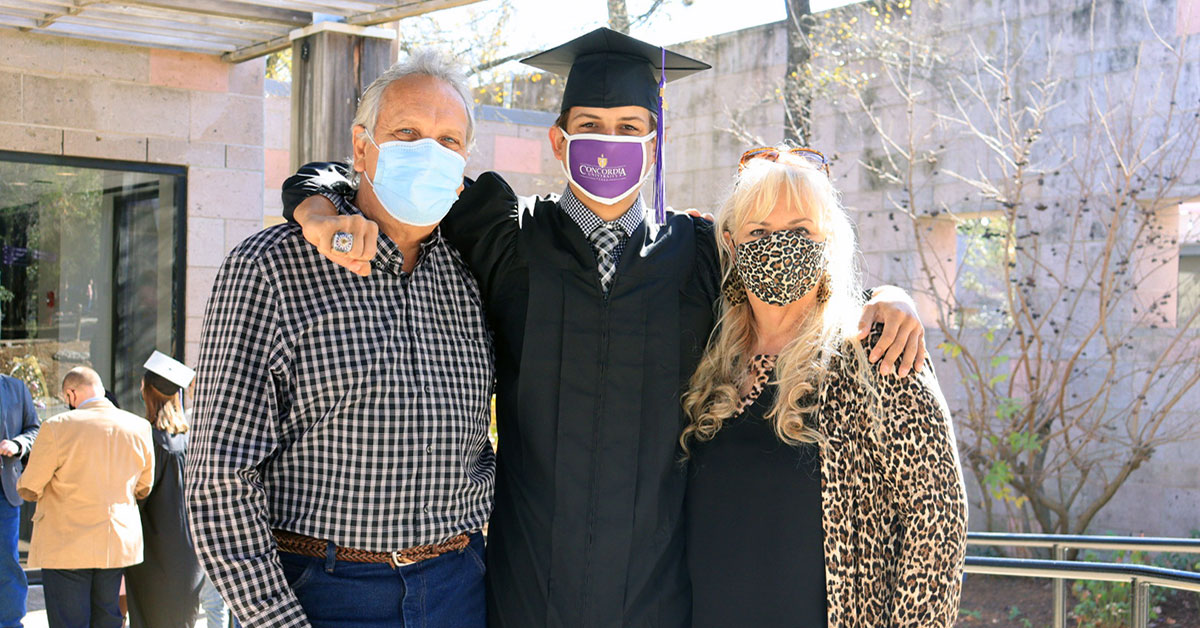 At Concordia University Texas, we understand that a student's transition from high school to college impacts everyone involved, including his or her parents.
We've put together this helpful college guide for parents to equip you with the information you need to know.
Bible Verses
The Christian faith is the foundation upon which Concordia University Texas was established.
We pray these 17 Bible verses will comfort and encourage you as you support your child on this life-changing adventure.
Admissions Process
Through our streamlined admissions process — from initial application to registering for the first semester of classes — your student will work with the same admissions counselor. The admissions counselor can answer any questions you or your child have about Concordia.
Concordia has extended its test-optional policy through the 2024-25 academic year. Freshmen are not required to submit ACT and SAT scores, but they are welcome to submit test scores; it can only help, not hurt, them.
FAFSA
Students must fill out the Free Application for Federal Student Aid (FAFSA) every year. Universities use information from the FAFSA to develop the financial aid packages that they offer students.
The FAFSA calculates a student's expected family contribution (EFC), which is the estimated amount of money a student's family is expected to pay toward college costs for one year based on various financial factors.
In addition to federal loans, the FAFSA is used to determine eligibility for federal and private grants (based on financial need).
First-Year Experience (FYE)
The FYE program at Concordia is designed to help your child transition from life as a high schooler to life as a college student.
In addition to taking the Life & Leadership course, all first-year freshmen attend seminars focused on personal growth and other relevant topics, participate in a community service project and complete the common reading book.
HyFlex Learning
For the Fall 2020 semester, Concordia University Texas instituted the Hybrid-Flexible Model (HyFlex), allowing students to choose whether they attend each course in person or online.
The University continues to utilize HyFlex learning for the 2020-21 academic year. Decisions about the Fall 2021 semester will be announced after the Spring 2021 semester.
Academic Support
The Academic Support Center houses the Success Center, Math Center, Speaking Center and Writing Center.
Concordia's Success Center provides accommodations for students who have learning disabilities and free tutoring services.
The Math, Speaking and Writing Centers provide free academic help with math coursework, oral communication skills (including presentations) and any phase of the writing process, respectively.
Residence Halls
Concordia requires all freshmen to live on campus unless they receive an exemption. The University offers two coed residence halls (H1 and H2).
Construction on a new state-of-the-art residence hall, Regents Hall, has begun. Regents Hall is set to be completed for the Fall 2022 semester. Beginning Fall 2021, new freshmen will be required to live on campus both their freshman and sophomore years.
Meal Plans
All residential students must have a meal plan, and commuters to campus are welcome to buy a meal plan. Sodexo operates Concordia's Dining Hall.
| Plan | What's Included |
| --- | --- |
| Plan A: Full Meal Plan | 19 meals/week + $50 Declining Cash Balance (DCB) |
| Plan B: Reduced Meal Plan | 14 meals/week + $75 DCB |
| Plan C: Block Meal Plan | 180 meals + $50 DCB |
| Plan D: Commuter Plan | 5 meals/week + $100 DCB |
A DCB works like a debit card. Students can use the DCB at the Dining Hall or UFCU Student Center Cafe in Building B. The cafe offers coffee, tea, sandwiches, fruit and other snacks.
Safety
The Concordia University Texas Campus Police Department (CTX PD) operates 24 hours a day to keep the campus safe and secure. The campus features a front gate, requiring visitors to check in with the guard.
The CTX PD administrative office is located on the lower level of Building D in D-138.
We also offer the CTX Safe mobile app, which includes the following:
Emergency Contacts

Call 911

Contact Campus Police

Contact local police for non-emergencies

Mobile BlueLight

Sends location to and calls CTX PD/police

Campus security/police receive user's real-time location

Initiates a call to dispatch

Friend Walk

Student sends real-time location to parent or friend

Parent or friend can watch student walk to a destination

Parent or friend can trigger a call to emergency services if necessary

Report a Tip

Report crimes in the app

Report crimes via phone call or SMS

Report real-time tip to dispatch

Virtual Walkhome

Allows CTX PD to monitor a student walking from one destination to another

CTX PD officer monitors student's journey

Emergency button available if needed

Safety Toolbox

Real-time chat with CTX PD

"I'm OK" feature that sends a student's location and message to pre-selected contacts, indicating that he or she is safe in an emergency

Connect app's map with user's location

Notification history of all push notifications sent by CTX Safe app

Share the app via email, Facebook or Twitter

Campus Maps

Crime map

Campus map

Emergency Plans

Concordia's plans for emergencies

Tips for responding to emergencies

Link to CTX Emergency Management resources

Community Resources

Connect with Student Central

Report sexual misconduct

View CTX Counseling Center resources

File Early Alert incident report

Report accident/injury

CTX PD resources
The app is helpful for both students and parents because it displays emergency notifications and CTX Alerts.
You can download CTX Safe in App Store!
Athletics
Concordia offers 15 NCAA DIII teams that compete in the American Southwest Conference (ASC) in addition to the varsity Concordia Esports team that is affiliated with the Southern Collegiate Athletic Conference.
DIII athletics programs cannot offer student-athletes scholarships, but these students may still qualify for merit-based awards. The Concordia Esports program is one of the few universities that offers an esports scholarship.
Concordia University Texas encourages parents to cheer on their students at athletics events. Because of COVID-19, spectators are limited to only attending outdoor games and must follow specific policies.
View the latest ASC rules, which are subject to change.
Family Events
Concordia hosts two annual events for students and their families to enjoy together: Concordia Crossing and Homecoming & Family Weekend.
Concordia Crossing is our annual community celebration of all things Concordia. Taking place in early March, you can enjoy a variety of events with your student:
Chapel services

Campus and Concordia Preserve tours

Tailgate

Baseball or softball game

CTX Game Show
Homecoming & Family Weekend
Held in late October, Concordia's Homecoming & Family weekend features a weekend full of fun events, including campus worship, Trunk or Treat, and more.
Academic Calendar
Are you wondering when your child will be home for the summer or when they'll come home for Christmas?
View Concordia's Academic Calendar.
Tornado Textbooks
Every CTX student is enrolled in the Tornado Textbooks program. For $25 per credit hour, the Concordia Bookstore will rent all of the semester's required reading to your child.
The program is designed to help students save money on the exorbitant costs of textbooks. The program is optional, and your student can choose to opt out of the program each semester.
Student Central
Student Central is home to our team of student financial planners and student academic planners.
The student financial planners can help you with any questions you have about your student's bill. This team can also help your student find more information about scholarships.
The student academic counselors help your student plan his or her degree and register for classes.
Career Services
Vocation & Professional Development, Concordia's career center, offers students and alumni a comprehensive range of career services.
In addition to providing career assessments and information about career paths, the center can help your child find an internship or job, prepare for interviews, write an excellent resume and more.
CTX Bookstore
Are you looking for a shirt or hat to wear to support your CTX Tornado? The Concordia Bookstore offers branded clothing, gifts and more!
You can also search the Concordia Tornados Athletics store to support your student-athlete.
Sending Packages to Your Student
Concordia has an on-campus mailing center, making it easy for you to send packages to your child.
To send a package, please follow Tornado Print & Mail's instructions.
Graduation
Concordia's Commencement ceremony is a wonderful way to celebrate your child's higher education achievements and cheer them on as they walk the stage. It's also a time when the University recognizes the significant contribution parents make, supporting and encouraging their children.
Due to the COVID-19 pandemic, Concordia has shifted to Drive-In Commencement. Students walk the stage in Concordia's Chapel in a private ceremony and can bring as many family and friends as they want to the ceremony.
Please check the Commencement page for the latest updates.
Stay Connected!
Follow Concordia University Texas on social media to see what's happening around campus.